Cardigan Croquet Club's Inaugural AGM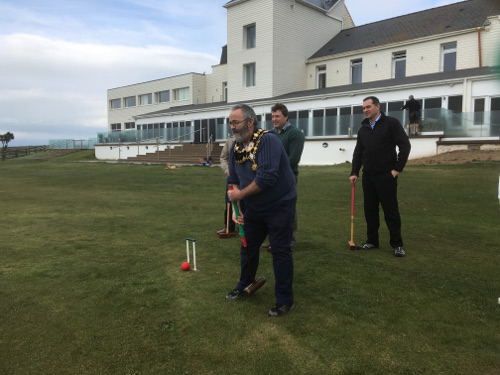 The Mayor of Cardigan, Richard Jones, at Cardigan CC (Photo: Kathleen Martin)
by Kathleen Martin
23rd October 2017 (
Other News
)
The CA would like to welcome Cardigan Croquet Club in joining the association. Kathleen Martin reports on the club's first AGM-
Cardigan Croquet Club had our first AGM on the 18the of October with 10 members present. We play on the lawn in front of the superb Cliff Hotel , on the South West coast of Wales, with its position overlooking the beautiful Teifi Estuary and the Irish Sea - and we are indebted to Wells Jones the owner who allows the club to play there with no charge for facilities or ground maintenance . It is a setting which John Evans our coach (and mentor ) says is incomparable to any he has ever played on !
After the AGM our guests - the Mayor of Cardigan, Richard Jones , the local County Councillor Clive Davies and the Ceredigion Actif Officer Steven Jones - were all delighted to have special coaching from John followed by afternoon tea ! We have 2 lawns ( not quite full size / nor bowling green standard but playable nevertheless )and an enclosed practice area. We have now ended the official playing season but will continue to play whenever the weather is fine enough ,Monday to Friday.
For further information please visit the Cardigan member club page. Please use the club secretary contact details for paper correspondence rather than the club's address.
---