Paddy Chapman won the AC World Championship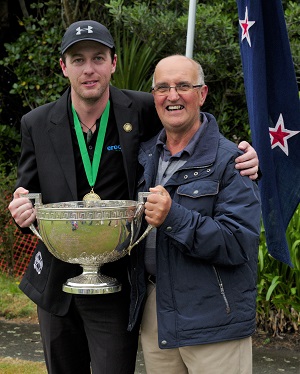 Paddy Chapman with his mentor John Prince (Photo: Jeff Soo)
by Dr Ian Vincent at Wellington, NZ
11th February 2018 (
World Championship
)
The final of the 2018 WCF World Championship was played in uncharacteristically warm, wet and misty weather for Wellington, though a northerly wind sprung up with some heavier showers in the afternoon. It was played at the Kelburn Municipal Croquet Club, along with the finals of the consolation events.
A close contest ensured, with Paddy Chapman winning the first game +7tp, after Reg Bamford had broken down on a Sextuple and Paddy had initially failed the Triple Peel. The remaining games were more clinical. Reg won the next two games +26tp, and had the first ball round, to 4-Back this time, in the final two games. However, on each occasion Paddy shot at and hit the ball at the peg with his lift, went to 4-Back himself, and finished with a triple after Reg had missed. He thus won the Wimbledon Cup, which is to be loaned to the All England Club for the exhibition to celebrate their 150th anniversary this year. also means that he and Miranda are a rare example of a couple who are both reigning World Champions, as she won the Women's AC Championship when it was played at their home club, Nottingham, in 2015.
In the consolation events, Greg Fletcher of Australia beat James Death in the final of the Shield, after James broke down in a valiant attempt at a sextuple while the rain was at its heaviest. Jonathan Powe won the Bowl, beating Stuat Lawrence of the USA in straight games, and Stephen Morgan, also of the USA, took the Plate, with Alain Giraud getting very little play.
The event, which was enlivened by a number of upcoming younger players, was played in an excellent spirit, which rewarded the generousity and hard work put in by the members of the host clubs. The baton was handed to Australia, who are expected to host the next Championship in Melbourne in 2020.
---