CA Select team win the Golf Croquet Inter-County Championship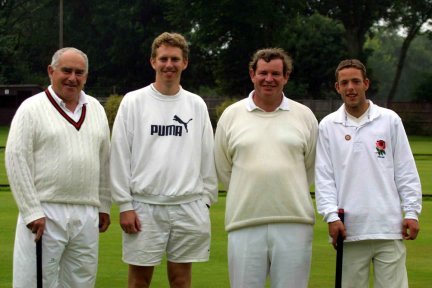 by Bill Arliss at Southwick
14th August 2002 (
GC - Championships
)
Only Oxford, Tyneside, Kent and Sussex entered this competition, but a CA Select team was introduced since there were a number of individuals wishing to play but with no county to play for.
The format was teams of four playing one doubles and two singles against all other entries. Sussex started off well with two 3-0 victories over Oxford and the CA Select, and a 2-1 victory over Tyneside and were playing their final round when the skies darkened and the heavens opened. Shoreham made the national news that night with a recorded 1.1 inches of rain in about an hour. At 4.30, Manager Don Beck abandoned play for that day.
Sunday started dull but dry and all the first round matches completed. The teams then played four further rounds against each other but with the doubles and singles pairing reversed. The results of the two rounds were added and Sussex maintained their lead with three overall wins and one match tied. The CA Select team was second with two wins and one match tied. The original programme included a series of both doubles and singles matches between the top two teams but due to the time lost on Saturday, this was reduced to one match of four singles with a draw for pairings. Unfortunately for Sussex, they went down 3-1 in this match and the CA Select team were declared winners.
Photo: Strat Liddiard
---