Report on the GC Student Championship 2018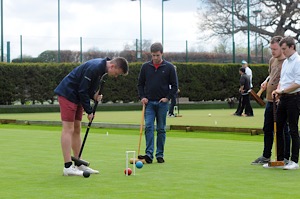 Doubles final; Singles winner J-P Moberly (Edi Uni.) watched by partner Steven Williams (Nott Uni.) (Photo: Chris Roberts)
by Jonathan Simpson at Roehampton
14 Apr 2018 (
GC - Championships
)
Following the great success of 2017's inaugural championship in Sheffield, the lawn quality was upgraded for this year from Parkhead Cricket Club outfield to the luscious, meticulously-trimmed grass of the magnificent Roehampton Club in London. In the true spirit of the GC student tournament, the weekend brought some excellent croquet as well as two thoroughly enjoyable and entertaining nights out - much fun was had by all!
Mischief aside, 17 players represented 5 universities from all across the UK with a rather healthy presence from the dependable and dedicated University of Sheffield squad. Block format and timed, double-banked games dominated the Saturday play with John-Paul Moberly, Thomas Oulton, Matthew Morgan and Jonathan Simpson topping their singles blocks. The scorching Southern sun meant the pale, pasty Northerners burnt to a bright lobster-red crisp.
Close, tense matches were fought throughout the competition. Spectators of all ages lined the lawns on both days to watch the exemplary standard of golf croquet. The doubles championship culminated in a very tight final with Sheffield uni gents William Chapman and Andrew Scott just losing out on the 13th hoop to the exquisite pairing of Edinburgh's finest John-Paul Moberly and Nottingham's 'military man' Steven Williams.
In the singles, Matthew Morgan beat Thomas Oulton in the Sheffield playoff for a very respectable third place and a warmly-welcomed boost in his world ranking. Support was extremely strong and entirely fair & balanced for the nail-biting grand final match. Sunday afternoon rain did not stop play; coats were donned and Simpson battled through the adverse weather conditions with a cracked, green visor. The well-rested, sober, world-class John-Paul ('Sean de Paul') Moberly and his precisely-crafted carbon-fibre mallet scraped a narrow 7-4 victory over Sheffield's sizeable commander-in-chief Jonathan Simpson in an exciting finale to round off a brilliant weekend. Full results can be found on www.croquetscores.com
We were very honoured and privileged to have the legendary CA President Quiller Barrett on hand to draw the championship to a close and to hand out the weighty trophies. Many thanks must go to Chris Roberts and Frances Colman for doing a marvellous job of helping out at the event and for their superb efforts keeping the tournament on track. As stated by many of the supporters, it was a delight to see so many young people having a great time playing croquet. It is hoped that this fresh, youthful croquet blood will be inspired to develop their game over the next few years. We are already incredibly excited for next year's GC Student Championship - it is sure to be another cracking weekend!
---