Ian Burridge won the 2018 Surbiton Golf Croquet Championship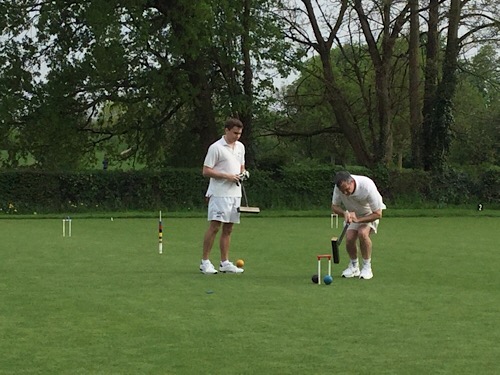 Ian Burridge plays the winning shot of the tournament (Photo: Don Beck)
by Don Beck at Surbiton
21 Apr 2018 (
GC - Championships
)
Surbiton in April .. 25C and not a cloud in the sky, 24 players (mostly on time) including late replacement Roger Goldring who proceeded to win 7/8 on the first day. The other feature was the unusual scores from Colin Britt who won 1/8 but was -4 in net hoops!
Sunday, the overnight rain had cleared and a beautiful days play was in prospect.
In Blue block it was simply a matter of who would accompany Roger into the semi. But then Roger lost his first 2 games. Going into the 11th and final round of the block Roger still held a lead with 7 wins but 6 players were 6/10.
Tim King was the first to win and with +7 net points and seven wins headed the block. Within a few minutes William Louw with +8 points took the lead. Then came Ian Burridge with +11 points and he was in the semi. William was waiting for the result of Peter Down against Liz Farrow. Had Peter won he would have made the semi, but he lost. Ian to play William in the semi.
In Red Block Pierre Beaudry was leading with 8/10 and net +23. Harry Fisher (8/10) had the edge playing Nick Cheyne (7/10) with a better net hoops +15 to +6. Hence if Nick wins 7-2 he goes into the final. Nick did win but only 7-6. Harry to play Pierre in the semi.
The other 20 players played a best of three against the other block player to determine final position.
Weather continues to be perfect 22C, full sun and a very gentle breeze.
In the semis Ian Burridge beat William Louw (small revenge for the Worlds Team at Surbiton...) and Harry Fisher beat a below-par Holder , Pierre Beaudry.
The final was typical of an early season tournament. Some skilful play interrupted by some ordinary play. Both players should be pleased with their form and on this occasion Ian's experience and greater consistency was sufficient for a 2-0 win.
Details on Croquet Scores.
---