Glamorgan beat CA Women 5-3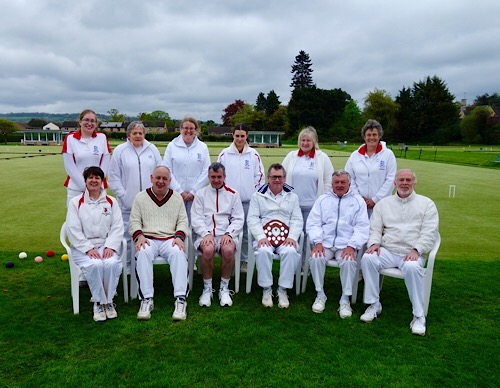 The CA Women and Glamorgan teams
by Ian Burridge at Cheltenham
29 Apr 2018 (
AC
)
This annual fixture between the CA Women's team and the Inter Counties 2nd Division Champions saw a Glamorgan side play host to the CA Women at Cheltenham Croquet Club. Both teams boasted nearly full availability resulting in a strong and competitive match played as three best of 3 doubles on the Saturday and 6 best of 3 singles on the Sunday.
With two closely matched teams the doubles was always going to be key and Glamorgan looked as if they were off to a flying start when Chris Williams, partnering Garry McElwain, missed the peg out against Rachel Gee and Sarah Hayes who had only scored a hoop. However three turns later the women had won the game and went on comfortably to win the match. Both teams paired their top and bottom players together and solid play from Sarah Melvin saw her and Ian Burridge overcome Miranda Chapman and Beatrice McGlen. The third match was more scrappy but saw John Evans and Richard Smith beat Ailsa Lines and Annabel McDiarmid to give Glamorgan an overnight 2-1 lead.
The Women had more strength in depth but the top 3 Glamorgan players boasted more than 200 Home Internationals caps for Wales between them so the experience was definitely with Glamorgan. Rachel Gee got the women off to a flying start with a no error two TP match against Garry McElwain. Ian Burridge managed to get Glamorgan back into the lead with a convincing second game TP following a scrappy first against Miranda Chapman, only for Ailsa Lines to restore parity with a quick win 2-0 against Richard Smith. So at lunch the match was poised at 3-3 but with Glamorgan 1-0 up in each of the three remaining matches.
Annabel McDiarmid quickly equalised against John Evans and when only John's back ball hit the peg in game 3 against 1&2 an unlikely win for the women looked possible as Annabel immediately established a break. When she stopped at 4back (knowing she wasn't conceding a lift but thinking there would be a contact) John eschewed his shot and Annabel was able to get to 3 back with her second ball before John took his first shot from near corner 2 missing the peg but hitting Annabel's guard in corner 4 to make it 4-3 to Glamorgan.
Beatrice and Sarah had both equalised and got the first breaks in the 3rd game but Sarah broke down at hoop 6 with her second ball allowing Chris to get as far as failing to finish from 4 back before she had croquet again. A tight game ensued with Sarah having a finishing turn of her own but ended with Chris finally getting over the line at the 4th attempt to seal victory for Glamorgan.
Sarah Melvin was in the course of completing an equalising break against Beatrice but both were happy to call the now dead match a draw, particularly given the freezing cold conditions which had blighted the second day, until which we all thought it had been cold on Saturday!
Glamorgan 5 CA Women 3 detailed results at croquetscores.com/2018/ac/glamorgan-v-ca-ladies
---