David Maugham won the Western Championship for the 7th time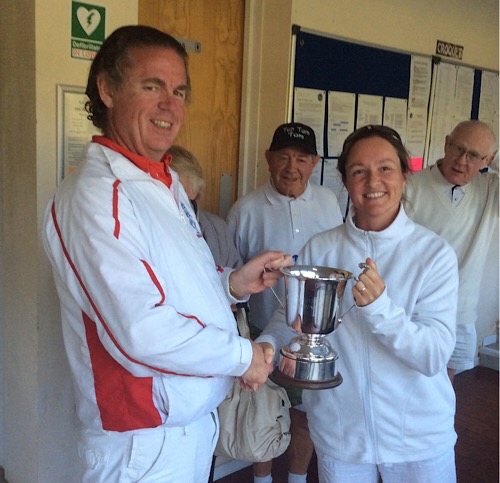 David Maugham receives the trophy from Alison Jones.
by Jonathan Powe at East Dorset
20th May 2018 (
AC - Championships
)
Thirteen of us gathered for the Western Championship, played over 3 days (18-20 May) in glorious sunshine at East Dorset. The lawns have been much improved in recent months due to the sterling efforts of the excellent new groundsman Robin Wilcox, and so were in tip-top condition for the weekend. And the hoops were pretty tight - indeed slightly too tight as a couple of balls got jammed on the first day. With the cafe now in new hands, East Dorset is once again a first-class venue for top-quality croquet.
The top 4 seeds were Stephen Mulliner, David Maugham, Christian Carter and Duncan Reeve, who were joined by 5 East Dorset locals - Anthony Dix, David Harrison-Wood, David Kendrick, Jonathan Powe and Tom Weston - plus Andy Myers, Andrew Killick, Alison Jones and Richard H Smith.
In the semi-finals, Stephen Mulliner beat Jonathan Powe +1, +18qp and David Maugham beat Christian Carter +8, +16. So it was Stephen Mulliner and David Maugham who fought out the 9½-hour, best-of-5 final on Sunday. The first game saw quite a bit of interaction, but Stephen eventually got control of all 4 balls and made a very tidy standard triple to take the game +14tp (1-0). In the second, David pegged out one of Stephen's balls to leave himself on peg and 2-back against Stephen on 3-back and box. After some lengthy cat-and-mouse games, Stephen finally ran rover and pegged out from 10 yards to win +3 (2-0). Game 3 also concluded with a 3-ball finish, this time with David on 4-back and box, and Stephen on 1 and peg, which David won +4 (2-1). In the 4th game, Stephen did a tpo, leaving himself on peg and 1-back against David on 3 and box for another 3-ball finish. Stephen made one hoop but left David a 25-yard double, which he duly hit and finished +7otp to take the match to the decider (2-2). In the final game, Stephen made a 5th turn break to 4-back. After some interaction following the contact, David did a tpo and managed one pop to leave himself on peg and 1 against Stephen on 2 and box. After more toing and froing, David laid up in C2 with Stephen in C4. Stephen took the shot, missed, and David played a very controlled 3-ball break from hoop 1 to the peg to win the Westerns for the 7th time. Many congratulations to him.
Duncan Reeve took the Plate, beating Andy Myers in the final +26tp.
---