Hunstanton - GC A-Level Series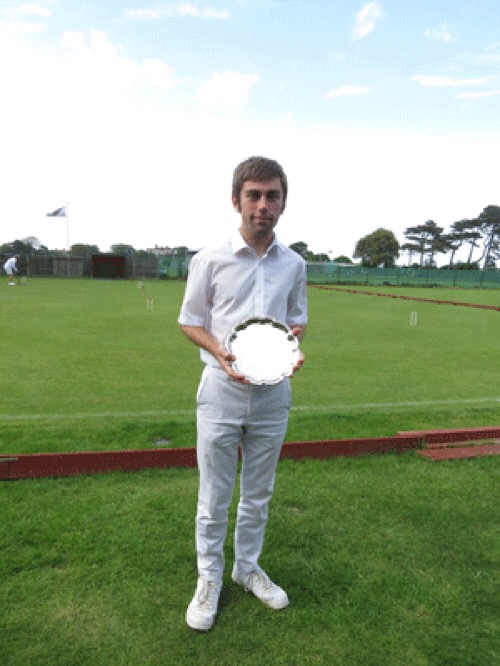 Richard Bilton, winner of the Salver
by David Boxell at Hunstanton
13th June 2018 (
GC
)
Results: The Salver was won by Richard Bilton and the Plate by Keith Pound.
Day 1 - Saturday 26 May 2018
The 16 players were welcomed to this inaugural 2 day event by David Thirtle-Watts, Chairman of Hunstanton CC. Day 1 was run in 2 blocks of 8 All-Play-All, with the top four in each block qualifying for the Main event; the rest to play each other in a round-robin for the Plate. All games were played without time limits. Martin French acted as Tournament Referee and Richard Bilton volunteered to run Croquet Scores. We are indebted to both of them and also to all the Club Members who supported the event. At the end of Day 1 the results of the All-Play-All blocks identified who would be playing in which event the following day.
Day 2 - Sunday 27 May 2018
The Main event was decided through a series of best of 3 * 13 point games through Quarter, Semi-Finals & a Final with Play-offs for the other places. Richard Bilton prevailed in straight sets. Three of the Quarter Finals were decided in 2 games and one went to best of 3. The final rankings were:
1st RICHARD BILTON (-2)
2nd STUART M SMITH (1)
3rd MARTIN FRENCH (-3)
4th DAVID WIDDISON (-1)
5th PETER DOWD (-2)
6th CHRIS SHEEN (-2)
7th ROGER GOLDRING (-1)
8th PAUL GUNN (1)
The Plate event was decided after 5 rounds of 13 point games in an All-Play-All round-robin. The 6th and 7th rounds were not played with the agreement of the players. Keith Pound produced a clean sheet with 5 wins out of the 5 rounds played. The final rankings were:
1st KEITH POUND (2)
2nd LESLIE HEARD (0)
3rd DAVID BELL * (0)
4th NOEL GILL (5)
5th LOUISE SMITH (6)
6th DAVID THIRTLE-WATTS (2)
7th MIKE BILTON (2)
8th PAUL DURKIN (2)
---