Martin Burger won the B-Level Advanced AC weekend at Guildford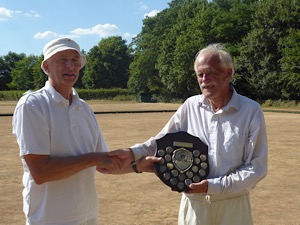 by Mark Godfrey-James at Guildford and Godalming
15 Jul 2018 (
AC
)
The conditions were very difficult - while the lawns only measured 10 to 11 plummers on Saturday morning, they were obviously faster than that as each day progressed. The speed was not the main issue as the hoops, set generously (thank you, Tony), were solid as if in concrete - and it was common for failed hoop attempts to bounce out by several feet - even when the attempt was to run the hoop with control. Only one game was pegged out in the whole week end. The manager abandoned the flexible swiss format by 11am on Saturday.
The catering (a new feature at this tournament) was excellent.
The challenge of the conditions accepted, the tournament had some surprising results, with some of the lower handicap players suffering more than (the manager) expected. Martin Burger was the clear winner as he won all of his games, with Adam Swinton and Phil Dunk on 4/5 wins.
---