Croquet returns to Countryfile Live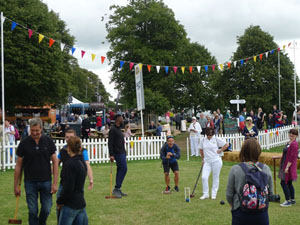 Croquet at Countryfile Live (Photo: John Dawson)
by John Dawson at Blenheim Palace, Oxford
26th July 2018 (
Other News
)
After last year's successful debut, the CA team is returning to Countryfile Live at Blenheim Palace, near Oxford, next week (Thursday 2 August to Sunday 5 August).
Over the four days we hope to persuade some of the 120,000 plus visitors "to give croquet a go" on the lawn (cut by Tony and Pat from the Eynsham club) in the park land of the palace and benefit from the enthusiastic and expert guidance from the team of 50 drawn from across the Southern Federation and beyond.
We'll pass out leaflets, chat to passers by, dispel a few myths about croquet and perhaps enthuse some of those who "give croquet a go" as well as putting them in contact with their local club.
We'll get a bit of time off, wander round the rest of the show and enjoy an ice cream.
If you and your family live within reach of Blenheim and want a great day out, come to Countryfile Live and call by the lawn to lend your support.
For further details see countryfilelive.com/
---