England won GC Home Internationals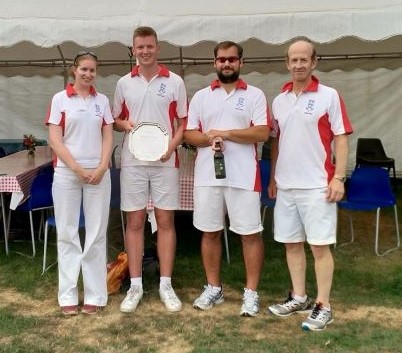 Winning team with the trophy (Photo: Emma Savage)
by Rachel Gee at Surbiton
22 Jul 2018 (
GC - Championships
)
England won the second Golf Croquet Home Internationals in convincing fashion; winning fourteen out of a possible eighteen matches and only dropping one match that was completed.
After the inaugural tournament at Carrickmines in 2017, Ian Burridge offered to buy a trophy for the event, so the weekend started with Ian presenting the trophy to J-P for England's win last year! All 16 players then headed straight out to test themselves against Surbiton's challenging conditions.
England got off to the perfect start by winning 6/6 matches without dropping a game. First up was the doubles; and British Open Doubles Champions John-Paul Moberly and Tobi Savage were able to put the 2017 draw against Martin "It's all luck" Murray and Alan Clark behind them with a convincing 2-0 win, a score matched by England's Jonathan Powe & Rachel Gee against the new Scottish pairing of Robert Darling and Rosemary Saunders-Robertson. England continued their good start into the first round of singles as each player didn't concede more than 6 hoops in their matches.
In the other first round test between Ireland and Wales, the score was much closer. Ireland, fielding a much-changed line-up compared to 2017 (with only Simon Williams playing again), prevailed 3.5-2.5 after Evan Newell beat Garry McElwain in the crucial last singles match with the score tied at 2.5-2.5. The only singles match to go the distance and reach a third game was Ireland's Jane Morrison against Wales' Sarah Melvin which Morrison dominated 7-0 in the third. In the other singles matches Wales' no. 1 Ian Burridge beat Ireland's no. 1 Simon Williams, however Ireland won the other as Charlie von Schmieder beat Peter Balchin. Wales' points came from the doubles in which they won 3 out of 4 games.
Now onto the second round (after the usual excellent Surbiton lunch) and, in order to stay in the competition, Wales now had to beat England and Scotland had to beat Ireland. The singles round was played first to reduce to the number of games needing to be played on Sunday. Welsh captain Burridge continued his good form in this event by beating England captain Moberly in straight games, playing particularly well at hoop 12 in game 1. Ian played numerous consecutive centre-ball clearances from the boundaries which he described as "some of the best shots I've played". Unfortunately for Wales, that was as good as it got as the other three singles matches went in England's favour, leaving Wales needing to win all four games of the bo2 doubles matches to salvage an unlikely draw.
Scotland were also on the receiving end of some good play from their test against Ireland, where all the singles went in Ireland's favour, apart from Newell vs Darling which was left tied at 1 game all and would be resumed if it mattered later.
This was it for Saturday's play, and most of us headed to The Royal Oak for some well-deserved liquid (and solid) refreshment. Simon Williams was very generous with his spare red wine, particularly to the English players (we wondered if this had anything to do with our upcoming fixture the next day…!).
We began Sunday by starting the final round of tests; so England faced Ireland in the title decider and Wales faced Scotland for the wooden spoon (in a repeat of the final round from 2017). The doubles matches from round 2 were left to play after the final round if they were relevant. Both tests were surprisingly one-sided with Wales winning 4-1 after a tie in both of the bo2 doubles matches and Burridge, Balchin and McElwain all winning their singles matches 2-0. The match between Saunders-Robertson and Melvin was left at 1-1 as the test result was already beyond doubt.
England beat Ireland with a decisive 4.5-0.5 final scoreline after Savage came back to take game 2 against an in-form Morrison and again the match was left at 1-1 once the overall result had been decided. Williams and von Schmieder claimed a game off Moberly and Savage and Powe dropped a game to von Schmieder but, apart from that, it was plain sailing for England as they wrapped up the Championship and retained the title of Golf Croquet Home International Champions.
All the unfinished games were left apart from the doubles between Wales and England as Wales could still snatch a draw if they won all four games. Moberly and Savage wrapped up the first game against Burridge and Melvin 7-4 meaning an England win was confirmed. The other doubles match was abandoned, and the second game went 7-1 to England, with Savage running the 8th hoop with the final shot of the event backwards!
Many thanks to event director and manager Rachel Gee for organising and managing, to Surbiton for hosting and to George Noble and his team of cooks and lawn setters. Thanks also to Tournament Referee Jay Dyer who refereed for us all weekend, and was even kept interested by a couple of Bray slice attempts from Savage.
Report by J-P Moberly.
---