Nailsea B-Class Tournament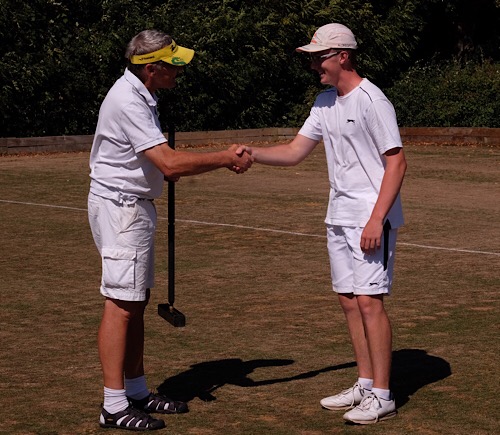 The finalists, David Warhurst and James Galpin
by Mike Tracy at Nailsea
22nd July 2018 (
AC
)
A full entry of 16 players assembled ro contest the Margaret Fleming Shield on a sunny Saturday morning. The competition is for players with handicaps in the range of 1 to 8. 6 came from the home club, the rest from as far afield as Devon, Buckinghamshire, Sussex and the Midlands.
The condition of the lawns had been a subject of concern as they had been stripped, levelled with a laser guided grader and reseeded in September. The weather that followed could not have been worse, resulting in about one third of the area being under water from October until February. After a brief respite in the rain more seed was sown in February and then we had snow, frost, more rain and then more snow. Then came the summer! Despite all this we managed to produce a good enough surface to play competitive croquet. Several players proved the point by completing their games inside the time limit.
The field was divided into 4 blocks of 4 players and on Saturday everyone played a 3 hour game against each of the other players in their block. This determined the pairings for the knockout stage on Sunday. The four block winners were Paul Castell (West Sussex), David Warhurst (High Wycombe), Wayne Wiseman (Bristol), and James Galpin (Nailsea), so this quartet went into the semi finals on Sunday morning. Second, third and fourth places in the blocks competed the positions further down the field in a similar manner.
The two finalists were David Warhurst and our own James Galpin. James, the current national junior champion, was playing in his second senior event, the first being one month previously. He had won that and his handicap was changed from 7 to 4, David's being 1. David had lost one game on his way to the final but James was undefeated, so we were looking forward to a fascinating final. David's form held, but James lost a little of his edge, and that was enough for David to win the final comfortably and take the Margaret Fleming Shield. James' performance throughout the event was good enough for him to earn a further handicap reduction to 3.5, and both players richly deserved the warm round of applause they received when the presentations were made.
---