Steve Skelton won the Fylde Jubilee Handicap Tournament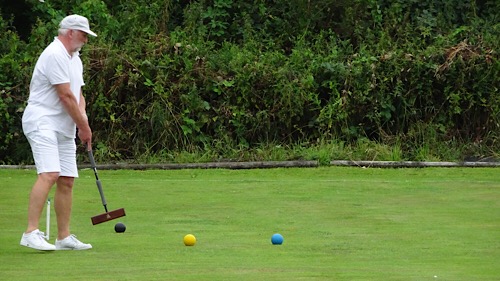 Steve Skelton in action (Photo: Peter Wilson)
by Peter Wilson at Fylde
29 Jul 2018 (
AC - Handicap
)
The NHS had sprung into action, called up a couple of players and as a consequence, reduced the field to ten. Many regulars were joined by several players visiting Fylde for the first time.
Steve calmly proceeded through each game scoring 5/5 while overcoming some peculiar weather on Saturday. I am sure other reports from around the country on this weekend will mention the elements. In fact Blackpool escaped the worst of it. Players were given enough Sunshine to dry off before the next dousing.
In the final round, by winning, Steve held of the challenges from serial winner John Henderson (Penrith CC) and in another game Alan Morton (Fylde CC) who otherwise both have had a chance through the tie break.
---