Solomon Trophy: 7-10 August 2018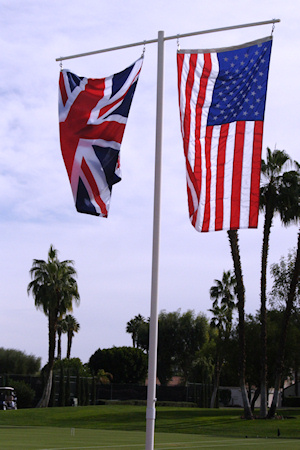 GB v USA (Photo: Samir Patel)
by Samir Patel at Surbiton Croquet Club
2nd August 2018 (
International
)
The Solomon Trophy will be held at Surbiton Croquet Club between 7 and 10 August 2018 between Great Britain and the United States.
The two teams are:
United States

Ben Rothman (Captain)
Matthew Essick
Stephen Morgan
Danny Huneycutt
Stuart Lawrence
Sherif Abdelwahab

Great Britain

Christian Carter
Jeff Dawson
Jonathan Kirby
Stephen Mulliner
Samir Patel (Captain)
Mark Suter
The test consists of 21 matches, each played best of three.
Six singles matches will be played on Tuesday 7 August
Nine doubles matches will be played on Wednesday 8 August and Thursday 9 August
A final six singles matches will be played on Friday 10 August.
Team orders, which will determine the detailed order of play, will be exchanged shortly before the start of play.
This is the 24th staging of this event, which is named after John Solomon, the 10-time Open Champion who was instrumental in setting up the event in 1985, and donated the trophy in 1988. Great Britain won the last encounter in 2016.
Spectators are welcome at the club. Courts 2 and 3 will be livestreamed; this can be accessed via the Surbiton Club's website.
---