GB win the Solomon Trophy 12-5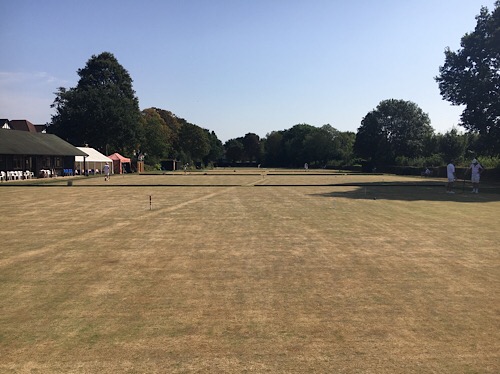 (Photo: Sam Murray)
by Samir Patel at Surbiton
10 Aug 2018 (
International
)
Great Britain defeated the United States at Surbiton Croquet Club to win the Solomon Trophy for the 22nd time.
The tournament began in the summer drought, with the lawns running at up to 16 plummers. The event followed immediately after the Championship of Surrey, the quarter finals of which featured four of the US team. This compared to just two of the GB team and so the Solomon trophy was expected to be closely fought affair.
This expectation continued as play started with early game wins evenly split between the two sides, and the first day's singles looking very likely to conclude 3-3. However, a later error from Matthew Essick and a rediscovery of form by Jeff Dawson gave the GB team an unexpected 5-1 lead overnight.
Day 2 saw doubles and more closely fought croquet. Stephen Mulliner and Mark Suter's win over Danny Huneycutt and Stephen Morgan epitomised the day, with GB just pipping the win +1 +2. This gave GB a 7-2 lead, and the US needing a remarkable recovery.
The weather broke overnight, which led to ever slower lawn conditions (measured as slow as 9.5 plummers) and a plethora of peeling turns. There had been one TP over the first two days, but 18 during the second two, including a final QP by Stuart Lawrence.
The remaining matches were split 3-3, leading to a result of 12-5 in favour of Great Britain before a major thunderstorm dropped half-an-inch of rain on the courts in 15 minutes, bringing the event to a rather damp conclusion.
---