'Let the youth meet the experience!' NextGen event introduces youngsters to competitive tournament croquet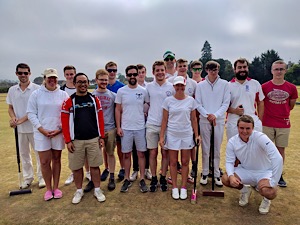 by Eugene Chang at Cheltenham
15 Jul 2018 (
Other News
)
The inaugural 'Next Generation' croquet tournament was held at Cheltenham Croquet Club over 14/15 July, coinciding with the final weekend of the AC Open Championships. The team event attracted 14 participants of mostly school and university age, from locations spanning Ramsgate to York, to compete in a mixture of AC and GC matches, partnered and mentored by leading croquet players.
The idea of the event was first conceived in a WhatsApp group of croquet players discussing how to get young people in to competitive croquet. A number of barriers to entry were identified, including geography, cost, lack of access to other young players, and an absence of top players at local clubs to inspire/mentor junior players with potential. This event was proposed as an experimental solution, with the following aims:
- to bring together young croquet players across the UK and build a community/network,
- to expose them to A-class AC/GC players, who are normally scattered few and far between and might not appear at their local clubs regularly,
- for them to experience top class croquet first-hand, by being at the climax of the AC Opens and by playing alongside A-class players in relaxed but competitive atmosphere.
Participants were divided in to four teams, each captained by an experienced player. A number of A-class players (Robert Wilkinson, Tobi Savage, Gabrielle Higgins) gave their time to mentor and play exclusively at the event, whilst many other players dipped in and out to take part around their existing Opens commitments (Andrew Hope, Mike Town, Gareth Denyer, David Wise, Alison Jones, Andy Myers, Jamie Burch, Stephen Mulliner, James Death, Sam Murray, Brian Cumming, Paul Bennett, George Noble). A special mention should go to Daniel Gott - identified originally as a potential participant only, his storming run in the Opens rendered him unavailable for much of the NextGen activities, but he duly joined as a team captain in the final rounds, and represented the NextGen participants in a GC match laid down by James Death and Jamie Burch. His Opens success will undoubtedly inspire more young players to follow his lead.
The event was run as an all-play-all team event, with each match consisting of two rounds: three GC games followed by three 14-point AC games. Hi-lo doubles partnerships were used where possible, using whichever experienced Opens participants we could press-gang to play at short notice (for full list, see above!), and AC doubles matches were played alternate stroke. The lawn conditions at the Opens this year were the most testing in recent memory, and many of the youngsters were surprised at both the firmness of the hoops and the speed/variability of the lawns.
Many of the NextGen participants had little experience of AC, having only participated in the GC Student Championships previously. For these players, they got a fast-track taste of AC break play through partnering an A-class player, and many of these duly played a part in completing their first ever all-round breaks under patient tutelage. The NextGen players with some AC already in their repertoire were treated to more advanced tactics such as pegged-out endings, peeling turns and forcing leaves. In particular, Aston Wade (Winchester School) playing off handicap 14 had some fantastic single ball strokes and will improve rapidly. Callum Johnson (York) was another player who stood out, earning praise from his doubles partner, 2016 AC World Champion Stephen Mulliner, whilst Ellen Thompson had the delight of partnering James Death to complete a superb peeling turn with a cross-wired leave.
The GC games were where most participants felt at home and these were contested fiercely. England international Tobi Savage opened some eyes with his unique swing, and his singles game against Daniel Gott featured some exhilarating long clearances and jump shots from the boundary. Oliver Rice (Ramsgate) was returning to the game after a few years out and showed glimpses of a Tobi-like swing, having been introduced to croquet by the latter. Meanwhile, the university-age participants were resuming their rivalries after many of them graduated over the summer - the CA's new Young Persons Sponsorship Scheme and Bursary Schemes will hopefully make it easy for them to find clubs nearby as they relocate around the country to join the world of work.
The block rounds were finished by lunch on Sunday, culminating in a 1 v 2, 3 v 4 final match-up on Sunday afternoon, with the Yellow team of Daniel Gott, Alison Jones, Aston Wade, Tom Oulton and Greg Peters emerging as champions. Other NextGen activities included some practice drills, including sequentially ricocheting a ball on to the peg over the fewest strokes and also a peg-shootout exercise. These were won by James Galpin (Nailsea), who also collected the Most Valuable Player award for winning the most games over the weekend.
Overall, the event was played in a relaxed but competitive manner, with NextGen players mingling with local players and Opens participants off the lawn, and getting plenty of chances to watch the Opens Singles semi-finals and finals when not in play. There were some good-humored remarks put to some of the NextGen youngsters over their liver-damaging exploits of Friday night, which led to late (late) starts for a select few. The Saturday evening BBQ provided a chance for further mingling, with NextGen participants taking full advantage of extremely generous offers from the CA Coaching Committee and Alison's Websites to fully subsidise their supper.
With the dust now settled, post-event feedback has been sought from participants, local members and mentors, with the potential of running another such event next year, perhaps following the AC Opens or another similar major top-class croquet event. There were multiple CA juniors and potential mentors who were unable to enter this year, and thus it would be good to get a future event in to the diary as soon as possible. As ever with experimental formats and a rookie tournament manager (yours-truly), there were things that could be improved in all fronts, from timekeeping to eligibility to format. Any further comments/thoughts are welcome - contact me at etychang@gmail.com.
My thanks must go to the many people who helped make this event such a success:
Alison Jones (AC International Performance Director) and members of the 'Promoting Croquet' WhatsApp group for helping to conceive/plan/publicise the event and bounce ideas off,
Dave Maugham (Manager of the Opens) who kindly let us have three lawns pre-allocated for the Opens,
Mark Suter (CA Manager) for help in securing the location for the event and for marketing the event to club secretaries,
Rob Fulford, Chris Clarke and others for discussions on the event format,
Adam Moliver and Sarah Hayes (Cheltenham) for the local logistics including transport, lawns, and accommodation,
The volunteers at Cheltenham CC for their work behind the scenes, suggesting and providing cheap lunch alternatives for the youngsters, and hosting/transporting participants,
The experienced mentors who took time out to partner/mentor at the event, sacrificing the chance to get more games in the Opens.
---