The McWeeney Trophy - English CA vs. Irish CA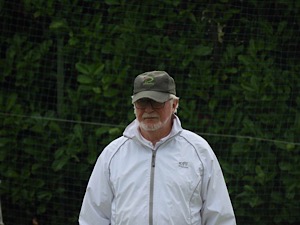 Myles McWeeney
by Alison Jones at Carrickmines
31st August 2018 (
International
)
The English CA vs Irish CA match is played each year to contest the McWeeney Trophy (a silver cigar box). The Ian Maugham Memorial Quaich will be presented to the man of the match, which is decided by the team captains. This year the match will be played at Carrickmines over the weekend of September 22/23.
The selected teams are as follows:
UK Team
Nick Mounfield -2
Alison Jones -0.5
Tom Weston 1.5
Richard Pepperell 5
Richard Stevens 6
Barry Holland 11
Ireland Team
Patsy FitzGerald -1.5
Nathaniel Healy 0
Evan Newell 0
Daniel Bennett 3
Alan Looney 4.5
Myles McWeeney 9
You will notice that this year there is a player who shares the name of the tournament, and I am delighted to confirm that he is a member of the same McWeeney family after which this tournament is named.
Here is Myles' story which he has kindly shared with us, together with the attached picture:
Vera McWeeney was my mother, and from the mid-1920s a member of Carrickmines Croquet and Lawn Tennis Club until her death in 1981. She excelled at many sports, and represented Ireland at international level on many occasions at both tennis and hockey. In the 1930s she was Captain of the Irish Ladies Hockey Team. She was an excellent croquet player, though found little time to play it as she was also a single-figure golfer (2), and also played racquet sports such as squash and badminton. A very hard act to follow!
In her later life, after my father died in his mid-50s, she had a distinguished career as a sports correspondent for the Irish Times, being their hockey and tennis correspondent. When she passed away in 1981 (her final hockey column and front page obituary appeared in the Irish Times simultaneously) I got permission from the Croquet Committee here to celebrate her attachment to both Carrickmines and croquet by establishing the annual Vera McWeeney Trophy fixture and presented the elegant cigar box, which belonged to my Havana cigar-loving father, we vie for in each match. I am delighted that it has been so keenly contested over the years, and am further delighted to be making my first appearance in it on the 22nd of September!"
I look forward to meeting Myles and playing in this fabulous event.
Alison
---