James Galpin Won the Nailsea A-Class Tournament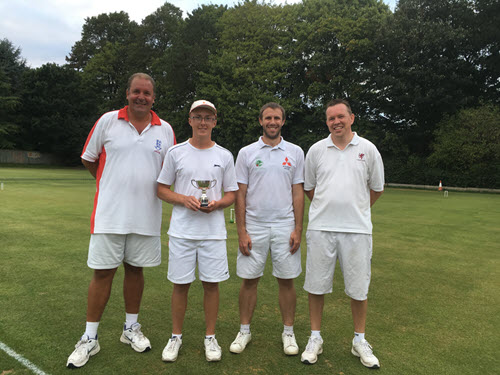 James Galpin Won the Nailsea A-Class Tournament (Photo: Kathy Wallace)
by Marcus Evans at Nailsea
2 Sep 2018 (
AC
)
Nailsea's James Galpin was the convincing winner of last Sunday's A-class tournament at Nailsea & District Croquet Club. Undaunted by the much greater experience of all his opponents, he narrowly defeated former winners Marcus Evans and Kristian Chambers in his first two games, before overcoming Mark Suter in the final. 17-year-old James played with great skill and composure throughout despite this being only his fourth ever event played under Advanced rules. It is his fourth tournament win of the season and by far the most impressive so far.
Former Nailsea member Mark won the peeling prize in addition to the runner-up spot by virtue of his excellent sextuple peel in his first game, the first to be completed at Nailsea since the lawns were levelled and relaid at the start of this season. The lawn maintenance team led by the tireless John Wallace worked very hard to prepare the playing surface to a high standard which will only continue to improve going into next season. A warm welcome is always assured at Nailsea, not least thanks to the fantastic catering which on this occasion was provided by Linda Shaw, Libby Howard-Blood, and Joan & Mike Timmins.
It is hard to overstate how impressive James's play is at the moment. He has a very consistent technique, hitting the ball firmly and straight like many young players, but with much more control of his croquet strokes and breaks than that might suggest. I don't recall having seen or heard of someone beating three players ranked in the world top 60 in their first A-class tournament, and if he perseveres there seems no limit to what he might achieve in both AC and GC. In his winner's speech James graciously and appropriately acknowledged the coaching of Peter Dyke, who has been the main contributor towards not only James's rapid progress (he started the season with a handicap of 12 and this has now been cut to scratch, surely a shoe-in for most improved player of the year) but also that of several other players in this tournament when they were learning the game in years gone by.
Next year this tournament will return to 2 days, provisionally 10-11 August 2019, and we look forward to welcoming new and returning players. On this evidence James will be among the favourites to retain the trophy.
---