Third running of the CARA Cup at Guildford and Godalming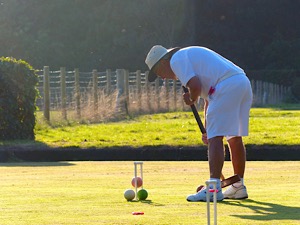 Robert Cook jumps hoop 10 (Photo: Sarah Patton)
by Mike Huxley at Guildford and Godalming
2 Sep 2018 (
GC
)
In beautiful sunshine, a dozen players converged on Guildford and Godalming, from clubs as far away as Nailsea. Chelmsford, Ashby and Sussex, to contest the CARA Cup (an A/B GC Level play tournament open to handicaps 1 to 6). In the event the handicap range was 1 to 4. All-play-all groups of six were formed, with the winners of each to contest the final, the runners-up to play for 3rd and 4th places, and so on.
After 5 rounds were complete, defending champion Richard Carline (2, Sussex) won the blue group with 4 wins from 5. In the red group, there was a dramatic turn-round. Morgan Case (2, Sussex) had won his first 4 matches comfortably and seemed a nailed-on winner of the group. But Robert Cook (3, Cheam) had other ideas and, by beating Morgan 7-3 in the last game, tied with Morgan on 4 wins and pipped him to the final by having net points of +12 against Morgan's +11.
So, it was Richard v Robert in the final. Richard led 2-0, Robert levelled at 2-2, then 3-3. Richard won the 7th, Robert jawsed in the 8th but was jumped by Richard. 5-3 to Richard and when he took hoop 9 and eventually jawsed in 10 it could have been all over. But Robert jumped cleanly through 10 and took 11 to lie 5-6 down. The shot of the final was yet to come. Richard, from west boundary penalty spot, stroked his ball to 18 inches straight in front of 12. Robert, with one his balls marooned behind hoop 11, had only one chance to clear the ball at 12. He missed it narrowly, pinging off the outside of the hoop and leaving the simplest of finishes.
So, the trophy returned whence it came. If this happens again next year we may have to consider renaming it as the CARAline Cup.
Well done to both finalists, and indeed to all the players. A good day's competition.
1st: Richard Carline (Sussex)
2nd: Robert Cook (Cheam)
3rd: Neil Humphreys (Chichester and Fishbourne)
---