Jonathan Powe and David Nicholson Won the English National GC Doubles Championship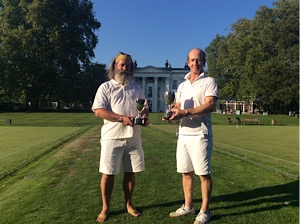 by Jonathan Powe at Hurlingham
2 Sep 2018 (
GC - Championships
)
The English National GC Doubles Championship was held over the weekend 1-2 September on Hurlingham's immaculately manicured lawns and enjoyed two glorious days of uninterrupted sunshine. The event had been cancelled in 2015 and there had been a very small entry in 2017, so it was encouraging to see 14 strong pairs competing for the Ranelagh Cups this year. A measure of the strength of the field was the number of players with their names already inscribed on the cups (11 of 28), some more than once: Lionel Tibble (1), Jayne Stevens (1), Tobi Savage (1), J-P Moberly (1,) Tom Weston (1), Will Gee (1), Rachel Gee (1), Nick Cheyne (1), Pierre Beaudry (2), Ivor Brand (3) and Chris Sheen (4).
Saturday saw 2 blocks of 7 pairs playing single 13-point games with 2 pairs from each block qualifying for the best-of-3 semi-finals and final on the Sunday. There was an early scare for the favourites (J-P Moberly and Tobi Savage) when they were beaten 7-5 by Tom Weston and Steve Leonard in the first block game of the day, but eventually the top 2 seeds in both blocks made it through to the knockouts. They were: Block A - Will Gee and Harry Fisher (6/6), J-P Moberly and Tobi Savage (4/6); Block B - Ian Burridge and Rachel Gee (5/6), Jonathan Powe and David Nicholson (5/6).
On Sunday the Plate was won convincingly by Pierre Beaudry and Chris Sheen who took all 5 of their plate games. Jayne Stevens and Andrew Dymond were not far behind with 4/5.
In the knockout semi-finals, J-P and Tobi defeated Ian and Rachel 7-6, 7-5 and Jonathan and David beat Will and Harry, also 7-6, 7-5.
In the final, J-P and Tobi took an early lead, winning the first game at a canter 7-4 with some outstanding hoop-running and long clearances. But Jonathan and David managed to run the early hoops in the 2nd game to inch ahead and held on to their lead before J-P and Tobi took the 11th and 12th hoops to level the scores at 6-6. Jonathan put his ball 3 yards in front of the 13th, wired from J-P, who took the shot anyway and missed. David placed his ball level with the 13th and Tobi then cleared Jonathan from 25 yards, centre-balling it to the northern boundary, but leaving him a slightly angled shot at the hoop which he duly ran, taking the match to a 3rd game. In the 3rd, Jonathan and David raced to a 5-1 lead and then hung on to take the title 4-7, 7-6, 7-3.
In the 3rd/4th play-off, Ian and Rachel beat Will and Harry 4-7, 7-4, 7-5 to claim 3rd place (and bragging rights in the Gee household).
All the results are available on Croquet Scores here: croquetscores.com/2018/gc/english-national-doubles-championship
---