Jean Cording won the Grass Roots final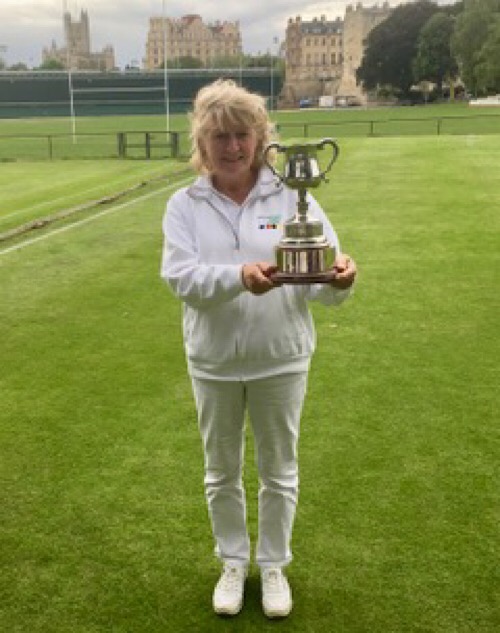 The winner - Jean Cording
by Paul Francis at Bath
9 Sep 2018 (
GC
)
The 16 qualifiers for the GC Grass Roots Final gathered in Bath on September 9th, many had travelled long distances including Richard Leach from Bury and Ros Etheridge from Hunstanton.
Blessed with good weather and four consistent playing lawns, the players demonstrated good hoop running and positioning throughout the tournament.
There were many close fought games, in fact almost half of the 48 games were won by just two hoops or one. 20% of games went to the 'Golden Hoop' and so there was plenty of entertainment for the large number of spectators.
The eventual winner, Jean Cording from Dowlish Wake was involved in many of these close games. In the morning block stage, Jean had very tight games with Sue Andrew from Bath and Frances Broadway from Enfield. Jean's route through the knock out stages was no easier with a quarter final win by two hoops over Mary Bertin from Bath and in the semi final the closest of wins over Bath's Jennifer Pope-Saunders.
In the meantime Michael Christmas from Phyllis Court had worked steadily through each stage, his patient and accurate croquet had overcome two strong players from the block stage-Frances Broadway from Enfield and Neil Stewart from Eynsham. Both results were 7-5 to Michael.
In the final, Jean raced to a 5-2 lead but Michael's resilience under pressure enabled him to pull back to 5-5. The tenth hoop was a marathon affair and the final was now well over an hour in time. The eleventh hoop was less dramatic because of the accuracy of Jean's first ball. She kept her nerve on the twelfth hoop to complete a worthy 7-5 win. The two finalists should be congratulated on the consistency of their games and both showed impressive 'stickability' when faced with losing positions.
In the Plate section, a newcomer to croquet, Sharon Clark from High Wycombe triumphed. Indeed Sharon's morning block was a tough draw which included Neil Stewart and Jennifer Pope-Saunders. As the day progressed, Sharon grew in confidence and she recorded three impressive wins in the afternoon. A definite player to watch out for next season and beyond.
Brian Wilson representing the Croquet association presented the Grass Roots trophy to Jean.
---