Match report for UK Student Championships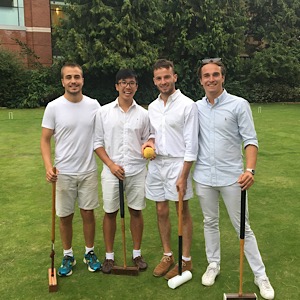 James Woolis, Ian Mak, Ross Moore, and Alfie Ball.
by Kirandeep Saini at Oxford University
2 Sep 2018 (
AC
)
The opening day of the UK student championships, hosted on a sunny weekend in early September at Oxford University parks, was marked by one word - dominance. As two titans of the student circuit, Mark van Loon (Oxford) and Daniel Gott (Bath), swatted away challenger after challenger; the apotheosis being a 26-0 thrashing of the current Oxford University croquet president, and next lowest handicapped player, Kirandeep Saini by Mark van Loon. His run as a dark horse in the proceedings cut short. Though Mr. van Loon and Mr. Gott are battling at the fringes of the top 100 in the world rankings, neither took their opposition lightly. The closest any challenger came was a nail-biting almost shock result by Mark Baker (Oxford), who attempted to dethrone MVL. The match ended 26-21, after the former's triple peel attempt collapsed. Though, Mr. Baker should be commended for attempting his first ever triple peel in competition against a man with a handicap almost 10 points higher than his own. Surely, Mr. Baker's handicap will soon come tumbling. Unfortunately, for the first time in years Cambridge did not send a representative, possibly as they were still licking the wounds of their defeat in the Varsity match at Hurlingham.
Elsewhere in the singles, Exeter duo Ian Mak and Ross Moore got off to a flying start against their Plymouth counterparts James Woolis and Alfie ball respectively. The day only got worse for the Plymouth duo as they were dispatched of by Mr. Saini and Mr. Baker. Every university's lunch trip seemed to end carting back a crate of beers to the lawns. As MVL and Mr. Gott marched on to the final two, the rest marched on to the nearest pub and set up shop. A tour of Oxford's best watering holes followed and then a late-night trip to one of Oxford's favourite kebab vans.
The following day, play was delayed an hour or two as many participants recovered from the night before; however, the two giants of the lawn, MVL and Mr. Gott, were on time and ready to play their singles final. A best of three that didn't make it quite that far, Mr. Gott took two consecutive games and the trophy with some stellar play. In the doubles, Oxford (represented by Kirandeep Saini and Mark Baker) were too strong for all opposition and cantered to being crowned the UK student association croquet doubles champion. The Exeter and Plymouth lads, wanting some silverware of their own, played the inaugural 'Peninsula varsity match' as a doubles event, Exeter eventually prevailed with Ian Mak and Ross Moore taking home the trophy.
The prize giving ceremony was delightfully orchestrated by former AC world champion and current CA vice-president Stephen Mulliner, who brought his well known wit and charm to the occasion. Hopefully, many of this year's competitors will be back next year to compete again!
---