Report on CA GC All England Handicap Singles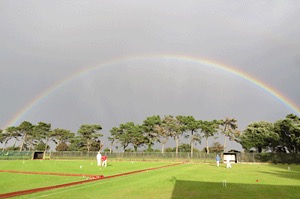 (Photo: David Thirtle-Watts)
by David Boxell at Hunstanton
23 Sep 2018 (
GC
)
This event was won by Simon Carter with 10 wins. Three players finished with 8 wins and a another four players had 7 wins. The 14 players produced 2 days of excellent croquet and provided ample talking points for the players, referees and spectators. These included running the wrong hoops and losing a game by failing to remove a clip before making a difficult angled jump shot.
The players endured some blustery and occasionally wet conditions on the second day, but seemed to thoroughly enjoy the venue.
We are extremely grateful to: our 'Lawn Elves' for the daily set up of the 5 lawns, our volunteer refreshments team; and to the small group of time-keepers who assisted the Managers to keep the tournament on track using guidance provided by Chris Roberts.
---