Mark Avery won the Championship of the South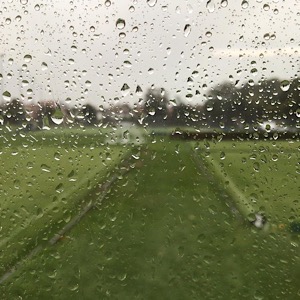 A rainy day at Compton. (Photo: Rich Waterman)
by Roger Wood at Compton
23 Sep 2018 (
AC - Championships
)
The weather was not kind. Friday: bright but very breezy; Saturday: grey at 0930, rain at 0935 which then persisted all day; Sunday: overnight rain, heavy at the start of play, gradually easing to give welcome sunshine after lunch. However, a general mood of jollification anticipating David Maugham's forthcoming nuptials kept spirits high by day and by night. Four new faces brought a welcome touch of youth to the proceedings, but they must have questioned the veracity of Eastbourne's boasts about its weather! Of the newcomers Daniel Gott continued his impressive season to reach a semi-final against David, while Rich Waterman took a game from Daniel and notched up a close win over Miranda Chapman. On his way to the final David's only win without a triple was against Robin Brown where he recovered from Robin's QPO (his second quad of the day) to win by 9. In the other half of the draw Robert Wilkinson was on form beating Ian Lines and Gavin Carter before losing to Mark Avery in game 3 of their match. Sadly Jack Wicks was obliged to withdraw after only 4 games because of burns to his hands sustained a week earlier.
The final began as the weather brightened and proved to be an absorbing high-quality match. In game 1 David was the first to 4-back with yellow followed by Mark going to 1-back leaving himself a rush on the east boundary with red and yellow cross-pegged. David missed from A baulk allowing Mark a TPO on yellow leaving a ball in corner 2 and one on the east boundary. David took contact from the boundary ball, rolled to hoop 1, made it, made hoop 2 off the corner ball and finished with a 3-ball break. Game 2 saw Mark first to 4-back with a standard contact leave. David lifted to corner 3 sending Mark's ball north of hoop 1 and laying himself a nearly wired rush to it near corner 4. Mark missed the corner 4 balls from which David produced a tidy TPO break. To his evident disappointment his firm croquet stroke for the peg out was a fraction too firm and his own ball trickled on to the peg as well. Mark took contact from David's other ball on the east boundary, rolled to hoop 1 and made it but failed hoop 2 bouncing to a position wired from David's ball. The ensuing turns saw Mark always a few hoops ahead of David who, despite a good hit in from corner 4 when Mark was ready to peg out from a couple of yards away, was not able to progress beyond 3-back. In the decider there was some initial cat and mouse before Mark made a break to 4-back. From the contact David again rolled and made hoop 1 continuing to 4-back popping Mark's backward ball to hoop 3. After some further manoeuvring by both players Mark was able to establish a break and finish with a delayed triple.
In the Swiss general enthusiasm was rather dampened by the rain although that didn't deter Ian Lines from producing a sextuple finish against Robin Brown as well as a string of triples. He was one of the top 8 who won their way through to a knock out on the Sunday, hopeful of retaining the Sussex Union Cup which he won last year. Both he and Gavin Carter reached the final with two triples each in previous rounds and it was Gavin who came away the winner.
Thanks go to Hilary and Tim Smith whose hot lunches, each crowned by a delicious crumble, were a most welcome restorative, and to groundsman John Crisford whose devotion to the lawns over a difficult summer has kept them in good shape.
---