Third Inter Federation Challenge. Croquet North vs. Yorkshire Croquet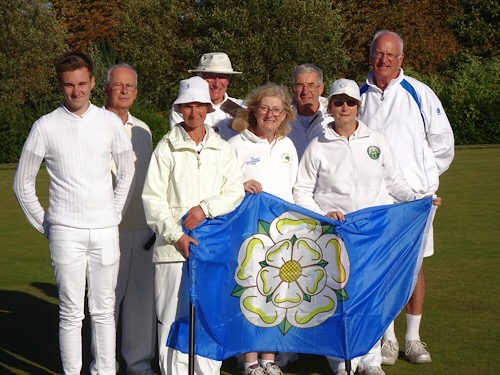 by Dennis Scarr at Middlesbrough
29 Sep 2018 (
Other News
)
The third Inter Federation Challenge match between Croquet North and Yorkshire Croquet enjoyed good weather and friendly rivalry for this croquet challenge. The Challenge is designed to bring together players from both AC and GC in an event where team members play both codes plus the hybrid 1 Ball.
SCORING
AC Handicap Doubles = 1 point per match
GC Level Play Doubles = 1 point for the winning pair of the best of 3 games
1 Ball = 1 point per game
The morning session began with AC Handicap Doubles - 18 point - all clips start on hoop 5.
2hours 15mins time limit. Any bisques standing after 2 hours of play were deemed void.
CROQUET NORTH 1 YORKSHIRE CROQUET 3
After a 45 minutes break for lunch
GC Doubles - Best of 3 games - level play - 2hours 45 mins total time allowed.
CROQUET NORTH 2 YORKSHIRE CROQUET 2
Another 15 minute break then
AC 1 Ball - Handicap
CROQUET NORTH 4 YORKSHIRE CROQUET 4
FINAL SCORE
CROQUET NORTH 7 YORKSHIRE CROQUET 9
In terms of individual performances maximum points were scored by
John & Maggie Crossland of Sheffield & Yorkshire Croquet.
---