Peter Aspinall won the Wrest Park Handicap Tournament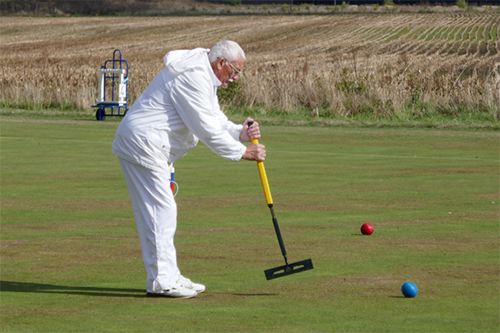 The winner in action
by Geoff Strutt at Wrest Park
23rd September 2018 (
AC - Handicap
)
Peter Aspinall won the Wrest Park Paul September Handicap. He achieved an unbeaten record over the 2-day Egyptian event, storming to a 69 point rating, 7 points ahead of his nearest rival John Bevington.
Against Tony Elliott, John Bevington had a late evening encounter which appeared to be going in Tony's favour. Unfortunately for Tony who missed the peg out, his opponent was now joined up on the boundary; so John gradually overhauled the deficit and eventually won by 2.
The game between Eric Audsley and John Hall was also a tight one. John Hall won by 1 just before the prize giving ceremony.
Rain spoiled Saturday afternoon and Sunday morning; but the sun came out to give us a gorgeous afternoon in the end.
The ratings scores were as follows:
69: Peter Aspinall
62: John Bevington
55: Richard Keighley
54: John Hall; Bryan Harral; Cliff Jones ; Hugh Manson
46: Eric Audsley; Sarah Barley; Andre Machell
45: Tony Elliott; George Woolhouse
39: Neil Chalmers
31: Barry Pilgrim
The handicaps ranged from -.5 to 12. 40 matches were played with time limits of 3 hours and 12 Wharrad turns. However, only one match needed it.
---