Sheffield beat Middlesbrough to win the Secretary's Shield 5-2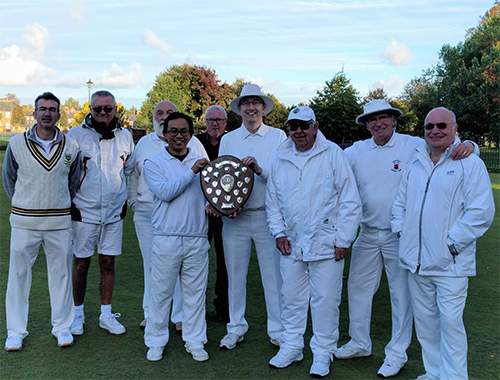 by Eugene Chang at York
6 Oct 2018 (
AC - Secretary's Shield
)
A repeat of the 2017 final saw Middlesbrough take on Sheffield at the neutral venue of York.
The forecast of rain all day proved inaccurate as only three short sharp showers punctuated the afternoon. Middlesbrough narrowly avoided a 3-0 scoreline going in to lunch with a last-gasp +1 win; lunch was supplemented by offerings from the local chippie. None of the afternoon games were a foregone conclusion for either side, with Mark Simmerson eventually delivering the winning point for Sheffield.
Many thanks to York CC for hosting and to Colin Irwin for presenting the trophy.
Results (Sheffield names first)
Trevor Billard (2) & Eugene Chang (-0.5) bt Dennis Scarr (1) & Roger Staples (2.5) +23
Mark Simmerson (9) bt Julian Gibson (12) +15
John Crossland (12) lost to Nigel Roberts (9) -1
Eugene Chang bt Dennis Scarr +2
Trevor Billard bt Roger Staples +5
John Crossland lost to Julian Gibson -1T (20-21)
Mark Simmerson bt Nigel Roberts +14
---