International Development Squad Update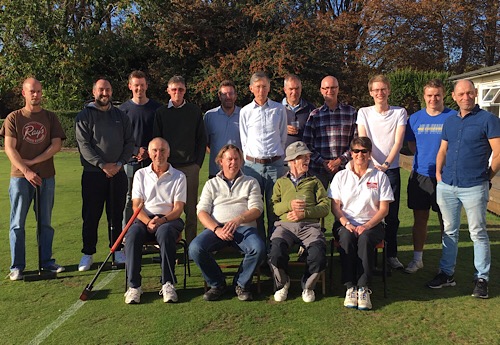 by John-Paul Moberly at Ealing
20 Oct 2018 (
AC
)
The International Performance Development Squad met on a very cold October weekend at a surprisingly sunny Ealing for a two day coaching session led by "The Beast" himself; David Maugham. Organised by the International Performance Director, Alison Maugham who is doing a great job of continuing the work by her predecessor Ian Burridge, the Development Squad brings together British based players who are on an upwards trajectory and have the potential to represent their country on the International Association Croquet stage.
This coaching was organised with an emphasis on tactical play and also introducing (or recapping) various aspects of the game, such as Super Advanced play, openings, various types of leaves and POPing. We were like sponges and took all this essential information in, and there was plenty of scope for discussion and also time on the lawn to try and practice the hot topics of debate!
Rich Waterman gave a fascinating overview on sports psychology and mindset and how we can train our minds through both mental and physical actions to produce our best when it matters. Top players such as Reg Bamford swear by this approach so it was brilliant to get such insight from a professional in the field.
Ian Vincent also popped by on the Sunday morning to give a rules refresher (and also show some of us how inconsistent our yard lines were with our mallets!).
Overall it was a very worthy weekend (with lots of beer and wine consumed at the pub on Saturday evening!) and gave us players plenty of food for thought and lots of ideas to practice and try to implement in the future.
Chris Coull and Sarah Melvin were also presented with the trophies for the Most Improved Male and Female Player of 2017 respectively; congratulations to them!
---