IPDG development squad weekend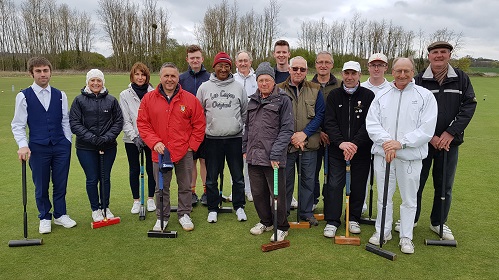 The International Performance Development Squad (Photo: Tim King)
by Lionel Tibble
8th April 2019 (
GC
)
The 2019 International Performance Development Squad included the new intake players Chris Heath, Dr Raouf Allim, Euan Burridge, James Galpin and (all the way from Edinburgh) Scottish International Lorna Dewar. Although both days were cloudy and overcast we were extremely lucky that rain didn't interrupt proceedings however the decidedly chilly Saturday meant that outside sessions were liberally interspersed with indoor activities.
A first for the Development Squad is the participation of two of our up-and-coming younger players soon to compete in the U21 WCF world championships. Good luck Euan and James and let's hope that this will inspire many more younger player to take up croquet. Euan will go on also to compete in the Simon Carter GC World Championships following the U21s.
Sadly the energetic Rachel Rowe has had to relinquish her role as Assistant and the post has been taken up, I'm very pleased to say, by the England team captain J P Moberly.
The weekend including sessions from Stephen Custance-Baker about the Rules changes, a mental approach session from Tim King, Steve Leonard described his experiences in the 2018 Over-50 World Championships in Cairo in which there were five other Development Squad players taking part.
Sunday's itinerary included development of set piece practice routines, jump shots - improving techniques, and a mentored game with Stephen Custance-Baker tasked with floating between lawns and interrupting play by directing the next player to 'play partner ball' and other irregularities asking players to determine the correct resolution to the various infringements.
Another first for the group was the introduction of Atkins Quadway hoops which the group soon came to terms with although, I suspect the soft ground conditions and generous one eighth setting contributed to this a great deal. But watch out next time chaps, because things will get tighter!
The DS will meet again on September 7th and 8th for the annual Mentored Match weekend involving the Elite players.
Thanks to Wrest Park for being terrific hosts, the lawns were splendid, George Collins and co. for sorting the teething problem with the Atkins hoops, to JP and Richard Bilton for their support and participation, to Tim King and Steve Leonard for their contributions and not least of all the ever enthusiastic Steven C-B for a very professional presentation.
Note to self: Download Coach's Eye because it's a great tool.
---