Jonathan Powe won the Sidmouth Golf Croquet Championship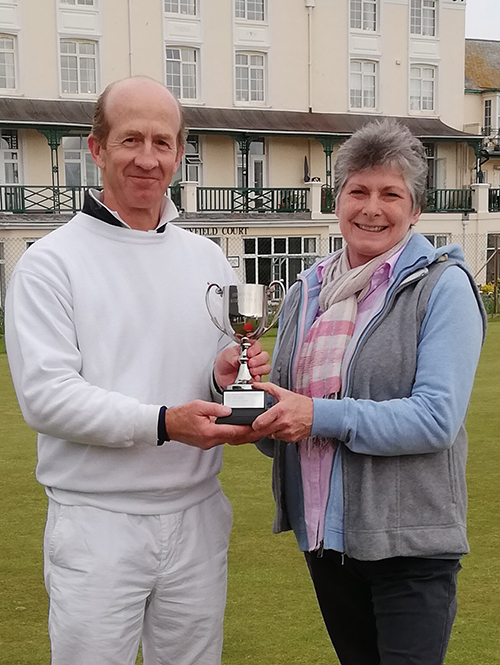 by Philip Harris at Sidmouth
28 Apr 2019 (
GC - Championships
)
Jonathan Powe won the Sidmouth Golf Croquet Championship, a qualifying event for The English National GC Singles Championship (Ascot Cup). Locally known as the Haste Cup, this tournament was played over the weekend of 27 and 28 April.
On the Saturday the 16 players were placed into two all-play-all American blocks. The weather was very windy making accurate casting difficult with strong gusts moving balls. In block A Jonathan Powe and Richard Brooks won 6 of their 7 games played. Stuart M Smith also qualified for the knockout by winning 4 games. The last game played and the last game to finish in the block was between Tim Jolliff and Colin Britt both on 3 wins. This game was watched with interest because the winner would qualify for the remaining quarter-final place. Tim won 7-6. In Block B Ryan Cabble (6 wins) and Graham Good (5 wins) were first and second. Tim King and Ivor Brand, each with 4 wins, also qualified
On the Sunday the wind abated so playing conditions were easier.
The knockout results are as follows:
QF1: Jonathan Powe beat Ivor Brand 7-1, 7-0
QF2: Stuart M Smith beat Graham Good 4-7, 7-5, 7-4
QF3: Tim King beat Richard Brooks 7-5, 7-4
QF4: Tim Jolliff beat Ryan Cabble 7-3, 7-5
SF1: Jonathan Powe beat Stuart M Smith 7-3, 7-5
SF2: Tim Jolliff beat Tim King 5-7, 7-6, 7-5
3rd/4th Play-off: Tim King beat Stuart M Smith 6-7, 7-6, 7-5
Final: Jonathan Powe beat Tim Jolliff 7-5, 7-4
Richard Brooks won the losing Quarter-finalist play-off. Stephen Custance-Baker won the Egyptian with Robin Wootton the runner-up.
The Haste Cup was presented to Jonathan Powe by Amanda Haste, a long standing member of the Sidmouth Croquet Club.
---