Report for Surbiton Summer Handicap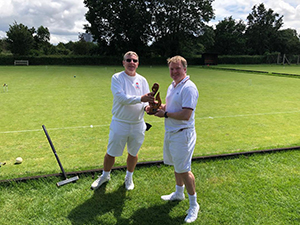 Andy Dibben (left) presenting trophy to David Evans
by Andy Dibben at Surbiton
16 Jun 2019 (
AC - Handicap
)
The Surbiton Summer handicap was contested by 20 players with handicaps ranging from -1 to 20. Of the 50 games played, 8 were won by +1. The clear winner was David Evans with 6 wins out of 6 who, in the process, achieved a handicap reduction from 10 to 8. Elaine Phillimore came 2nd on 4 out of 5 - narrowly beating Philip Helen and Peter Spiller (also on 4/5 on quality of wins).
The weather was variable, a mixture of Sun, Showers, Wind and just plain dull. However, this was more than made up by the consistent high quality of the catering - lunches prepared by Monica on Saturday and Chris on Sunday with Susie on afternoon teas.
The event was managed by 'Timmy 2' - my laptop PC running a Swiss Tournament management program that scheduled all of the games, enabled players to enter their own results, minimised player waiting time and kept a constant display of the tournament status. 'Timmy 2' was a late stand-in for Tim Dutton who normally runs this event.
Perhaps most surprising was that all the players obeyed the PC's instructions and entered all the results without any mistakes.
Luckily for me (deputy manager) - 'Timmy 2' is teetotal and kindly passed on to me all drinks offered to the manager!
---