Belgium pips Wales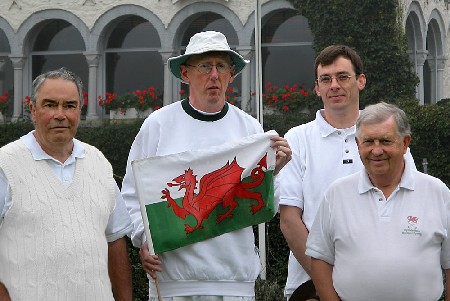 by Quiller Barrett
17th September 2002 (
International
)
Belgium beat Wales by 11 games to 9 in a match held on Sept 14-15th, lakeside at the Chateau du Lac, Genval, near Brussels (possibly the nicest surroundings to play croquet in the world?).
Wales was represented by (pictured, left to right) Quiller Barrett, Tal Golesworthy, Jonathan Bowen and Mike Evans, and Belgium by Bruno Eeman, Tony Falcon-Uff, Koen Heidbuchel, John Swabey, Charles-Eric Vilain XIIII and Gabor Weiner (Belgium made team changes on the second day).
The Belgian team's hospitality is legendary and the Welsh were still recovering from it on the way home . . .
There were 17 singles and 3 doubles.
Welsh Wins
Singles
Golesworthy 4, Bowen 2, Barrett 1
Doubles
Golesworthy/Bowen 1, Bowen/Barrett 1
Belgian Wins
Singles
Falcon-Uff 3, Heidbuchel 2, Swabey 2, Eeman 1, Vilain XIIII 1, Weiner 1 DOUBLES Weiner/Falcon-Uff 1
---