Julian Gibson won the Tyneside Midweek Handicap Tournament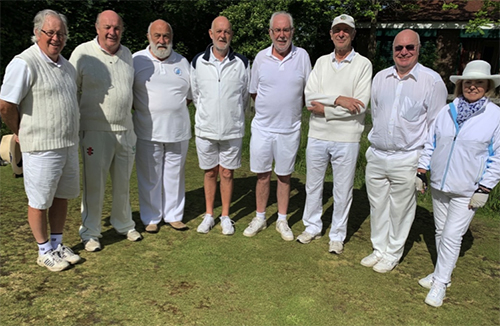 (Photo: Peter Wallace)
by Phil Errington at Tyneside
6 Jun 2019 (
AC - Handicap
)
Eight players contested this year's tournament with handicaps ranging from -.5 to 14 in an American Block and it was the 14 handicapper, Julian Gibson, who prevailed on the unconventional tiebreaker of the most peg-outs. New manager Derek Johnson used this tiebreaker to encourage attacking play because of the double banked games and shorter time limits. This seemed to be successful as only five of the 28 games went to time.
Places in the Order of Play were decided by lot on the day. After two rounds the Middlesbrough duo of Andrew Killick and Julian Gibson were the only undefeated players so when they met in Round 3 Andrew held the whip hand by winning +1 on time. However he let Julian back in in Round 4 when Derek Johnson from the home club beat him +3 and Julian beat Bob Thompson +8. Rounds 5 and 6 saw the two of them each reach the peg in winning their games meaning it was all on the final round with Andrew having to win and peg out and hope that Derek could inflict the same damage on Julian as he had on Andrew. Andrew duly won by coming from a long way behind to pip Frances Colman of Phyllis Court but couldn't reach the peg. However it didn't matter because Julian saw off Derek +10T so that they both finished with six wins and Julian's five peg outs to Andrew's four gave him victory.
Thanks are due to the volunteers from Tyneside club who catered for the event, especially Brenda Johnson and Peter Wallace who were there for the duration.
---