England Retain the AC Home Internationals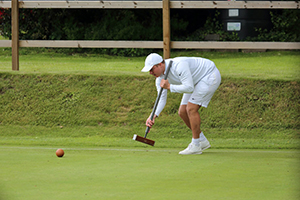 England debutant Daniel Gott in action (Photo: Samir Patel)
by Samir Patel at Budleigh Salterton
9 Jun 2019 (
International
)
The AC Home Internationals Championship returned to Budleigh Salterton for the first time in 20 years. Recent work on the lawns at Budleigh has resulted in a superb grass texture, although heavy rain on the days before the event ensured easy hoops. It turned out that each team had one player who had played in that 1999 event (David Maugham (England), Ian Burridge (Wales), Simon Williams (Ireland) and, of course, Martin Murray (Scotland). 'Of course' because Martin has been a regular player since the Home Internationals was formed in 1980, which was also the only year in which Scotland have won the event.
However, this year the Scotland team set out to change that. Sam Murray got off to a flying start with an eleventh turn +26tp +26tp win over Samir Patel. Duncan Reeve was in control of his match with David Maugham - game up and starting a TP to win 2-0. And Scotland were in play in the first game of all three other matches. But then the wheel fell off the Scottish bandwagon. Errors in quick succession across all four matches returned England players to the courts. David went on to beat Duncan -16 +15tp +15tp, and the other England team including two debutants, Dominic Nunns and Daniel Gott completed clinical +26 wins in game 2. England 4, Scotland 1.
Ireland v Wales was closely fought, with both games and matches traded between two players. It all came down to the final match, between Jane Morrison and Rich Waterman. Jane had won the closely fought first game +5. Rich had the second under control but chose to peg out one ball leaving partner for peg. Jane duly proceeded to control the remainder of the game - taking a few hoops here and there, leaving Rich only a few unattractive shots at the peg. He narrowly missed several, but finally hit his last opportunity (+3), much to Welsh delight, but not that of the manager. The test was pegged down, tied at 2-all in matches, with the remaining match at 1-all. It never resumed.
Scotland v Wales was notable for two feats. Martin Murray, who was playing at position 5, completed a clinical +26tp +26tp win. The rest of the Scotland team did their best to follow in Martin's footsteps, and less than three hours after the test started, Scotland had won 3-0, although John Evans won his match shortly after to make the score 3-1. The now dead match between Garry McElwain and Chris Coull was abandoned in favour of fish and chips.
England v Ireland turned out to be much closer, with Ireland taking the first game in three of the matches, with Dominic Nunns locked in a titanic battle with Patsy Fitzgerald. Your correspondent was occupied in his own battle with Danny Johnston so cannot report too many details, but the summary at the time "they both hit everything". Daniel Gott did have his match under control with a +25tp in the first and almost +26tp in the second but failed to compete the peg out. Jane took a quick break to 4-back with a Diagonal Spread. Possibly unaware of Jane's heroics in her match against Rich, or perhaps inspired by the identity of his teammate, Daniel chose to Suter his peg ball (decline to take a lift shot and instead peg it out from where it lay). Jane took her break to the peg, Daniel missed his one shot (which was longer than the lift he turned down), and Jane finished. +1. "I'm not doing that again" was Daniel's quote after the match. By this time, Andrew Johnston had completed a +26tp +26tp win over David Maugham, with all four other matches tied 1-1. However, England won all four final games (+14tp, +16, +14, +26tp) to take the test 4-1.
In the final test, England v Wales was switch; four 2-0 results, three in England's favour to wrap up the Championship. The fourth match followed soon afterwards, for a tidy 4-1 result against all three countries.
The top two pairs for Ireland and Scotland had competitive matches, including Danny Johnston and Sam Murray trading the only two TPOs of the event. Scotland won both 2-1 to level the test, after Ireland's three and four had won their matches 2-0. This left the test tied 2-2 and 1-1, but with England having won the championship, some players having flights to catch and a risk of heavy rain, further play was abandoned.
Finally, special congratulations to the four players who won all three of their matches - Sam Murray, John Evans, Dominic Nunns (who didn't drop a game during the event) and Daniel Gott.
---