Callum Johnson won the Middlesbrough B-Level AC Tournament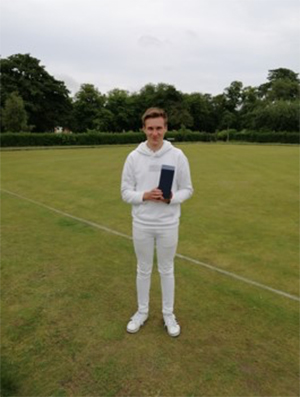 The winner, Callum Johnson
by Dennis Scarr at Middlesbrough
24 Jun 2019 (
AC
)
Our eleventh B level tournament in Albert Park had a full field of 16 competitors drawn from England and Scotland, including a few first timers at this tournament.
Handicaps showed a good, even spread from a very recently achieved - 0.5 to 8. The weather was good for the entire two days which brought the best out of our 4 lawns.
On Saturday we had four seeded blocks of 4 with block winners going forward to their respective Sunday blocks comprising those players who on Saturday had come 1st in each block, those who came 2nd, etc, etc.
Order of play in each block was 1v3 & 2v4, 1v4 & 2v3, 1v2 & 3v4.
In the event of players achieving the same number of wins, block positions were determined by Net Hoops and if necessary head to head results.
Time-limits of 2.75 hr on day one were reduced to 2.5 hr the next day, with three rounds each day. All lawns were double-banked.
At close of play on Saturday many of those taking part in the tournament gathered at a local Italian restaurant prior to the Manager returning home to do the block calculations for day two.
Top seeds in 3 of the 4 Saturday blocks failed to make it to the top Sunday block with the second seed in all 3 cases winning out; in one block by winning all 3 games and in 2 other blocks on net hoops.
The top block for day 2 started with an impressive display from Derek Knight keeping Peter Wilson off the lawn in a 26 - 7 win. In the other game after Dennis Scarr stalled with both balls at 1back, Callum Johnson took control winning 26 - 12 TP.
In the second round of games Callum Johnson dominated his match against Peter Wilson winning 26 - 0 TP with Peter not taking croquet. The other game in the second round was more interactive with Dennis Scarr running out winner 26 - 13 against Derek Knight.
The final round in block 1 saw Dennis Scarr win a close match against Peter Wilson 26 - 20 to finish overall second in the tournament.
Derek Knight was in a must win encounter with Callum Johnson in the final match however, Callum was to run out winner 26 - 14 to become a very worthy winner of the tournament.
6 games went to time on day 1 and with a reduced time limit on day 2, 7 games went to time.
Honourable mentions go to
David Warhurst who despite not winning his day 1 block managed an overall 5 wins from 6.
Ian Hall who was the only player to beat Callum in the tournament and that on a Golden Hoop !
George Plant on his first visit to Middlesbrough Croquet Club came away with a 4 wins from 6 including a veritable drubbing of David Warhurst !
Nigel Roberts who stepped in at the last minute following a withdrawal. Only managed one win but it was a good one !
Peter Wilson who makes the role of Referee in Charge look effortless !
Catering was provided by Joan Scarr assisted by family members and Roger Staples from the Middlesbrough Club. Participants have confirmed that the catering was a highlight of the tournament !
---