John-Paul Moberly won the 8th Nottingham GC Championship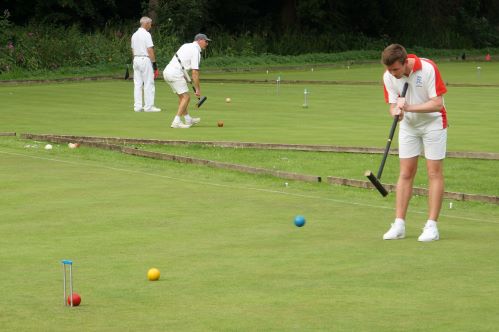 John-Paul Moberly hits a jump shot (Photo: Keith Pound)
by Dr Tim King at Nottingham Croquet Club
14 Jul 2019 (
GC - Championships
)
Twenty players gathered to contest a particularly strong Nottingham GC Championship. Players lured to Nottingham by stories of forgiving hoops may have been disappointed to see one of the first uses of Atkins Quadway hoops in competitive UK croquet, ahead of their use in the U21 World Championship later this month.
As play progressed, J P Moberly amassed a vast hoop difference on his way to topping Block A despite dropping a game to Richard Bilton who claimed second place. Overall the block proceeded as expected from the seeding, with the exception of 7th seed Ellie Ross who played well to finish fourth, boding well for her upcoming U21 World Championship.
Block B was less straightforward. Whilst second seed Will Gee survived several near misses to win the block, a handful of close encounters cost top seed Tobi Savage his place in the semi-finals. Overnight it seemed like Jamie Gumbrell from Canberra had his qualification in his own hands, but when news came that Jamie had lost his final game, quick maths in the pavilion showed that if Rachel Gee won her final game 7-3 he would be denied second place on the basis of tied net hoops and who-beat-who. The fact she was at that moment 5-3 up on Lawn 1 gave spectators some excitement in the run up to lunch. Not understanding why the crowd had suddenly become so animated, she was surprised to learn when her game finished that she had done just enough to eke out second spot.
And so the semi-finals were decided: J P vs Rachel and Will vs Richard. J P, fuelled relentlessly on by his Tesco meal deal, quickly took the first game and then overcame a fightback by Rachel in the second. In the other semi, Will's fightback in the first game earnt him a 7-6 win, whilst Richard held on to his lead in the second to level the match. In the decider, Will strung together the middle hoops to help secure his spot in the final.
In the final, J P pitted his skills against more than a decade of Will's accumulated local knowledge. Small ebbs and flows in hoop running, clearances and positioning between games translated to wildly fluctuating game scores as J P took the first 7-2 only for Will to win the second 7-2. The trend continued into the third game, and at 6-3 down, Will reluctantly left J P an angled jump shot over his jawsed ball. All hopes of a rush peel were quickly dashed as J P jumped through to stylishly become the Nottingham Golf Croquet Champion on his third attempt.
Meanwhile, Tobi had rediscovered his form to win the plate, whilst Keith Pound won the Vase event.
Full results on CroquetScores.
---