John Bowcott won the GC Veterans Championship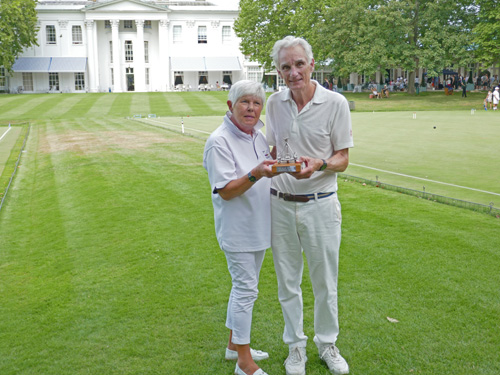 John Bowcott wins Vets Championship 2019 at Hurlingham
by Roger Sutton at Hurlingham
15 Aug 2019 (
GC - Championships
)
20 competitors arrived at Hurlingham for three days of competition. Two blocks of ten with an all play all in the blocks completed the first day and a half this was followed by a knockout and the plate.
The eight quarterfinalists in the championship knockout were. Chris Sheen 8 wins, Robert Clark 7 wins, John Bowcott 5 wins, Michael Fensome 4 wins from Block A and Noel Gill 7 wins, Steiner Olsen 7 wins, Roger Sutton 7 wins, and Colin Britt 6 wins from block B.
The quarter and semi-finals were closely fought on the two hottest days of the year.
John Bowcott won through to the final by beating Steiner Olsen and Christopher Sheen where he played Roger Sutton who had beaten Robert Clark and Noel Gill. The final was played in searing heat John Bowcott winning 7-6 7-6 to retain the title. The plate was won by Ronald Carter who beat Anthony
Butcher 7-4 7-5.
By Roger Sutton
---