Great Britain retained the Maugham Salver 2019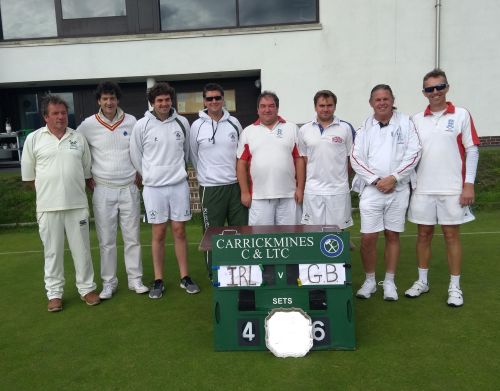 Maugham Salver Teams
by Richard M Smith at Carrickmines
4th September 2019 (
International
)
Great Britain narrowly retained the Maugham Salver this weekend with a 6-4 victory over a strong Ireland team in Carrickmines. The visitors were treated to very generous Irish hospitality, and were spoiled with the excellent quality of the lawns. The forecast poor weather didn't materialise, and apart from a couple of short showers and annoying gusts of wind, we enjoyed a fine, sunny weekend.
With the teams' rankings looking pretty even, we were expecting the match to be tight. And so it turned out to be!
Richard Smith had a dream start on his GB debut, completing a TP on only his second visit to the lawn. This paved the way for a quick victory over Ireland's top doubles pair, but things didn't go so smoothly in the other match - after Harry Fisher contrived to accidentally peg himself out whilst attempting to find the corner, the Brits didn't really get much of a look in and at lunchtime the test was balanced at 1-1.
In the reverse singles after lunch, GB Captain David Maugham was first to finish, with the other three matches all going to the deciding game. Andrew Johnston found his form to edge past Fisher, and in a high quality encounter Williams took the third against Brown. Fortunately for GB, Smith just about held it together in front of a gathering crowd to complete a pressure turn to level the match. 3-3 overnight.
After a leisurely change, the teams enjoyed the traditional Irish hospitality at a local restaurant before retiring, ready for battle in the morning. With one further round of singles matches planned, a draw was possible and so there was some discussion about the playoff format. However, both teams were hoping for a decisive outcome.
Unfortunately for GB, the outcome of the first match to finish on Sunday couldn't have been any more decisive. Andrew Johnston continued where he left off against Fisher with two 6th turn triples against Maugham. It looked as though Brown and Fisher were heading towards 2-0 wins, but their triples both came to grief at an advanced stage, with Brown finishing in an unrunnable position after his straight rover peel, and Fisher experiencing his first ever grievous. Their opponents were both quick to pounce, efficiently knocking off triples of their own to equalise. In the meantime, Smith, who had lost the first game without putting up much of a fight, came back with a tidy triple of his own to level his match.
Lunchtime on Day 2. Ireland were 4-3 up with the other three matches all poised at 1-1.
Fisher and Brown obviously enjoyed their lunch, as they both came out firing on all cylinders, winning their deciders +26TP. 5-4 to GB. This left Smith out there on his own again, break-all against the undefeated Williams. With the unusual clip positions of 1&peg (against 2&4b), Smith's "9-3-14" strategy did the trick with Williams missing his final lift. One 4 ball break to the peg later, and GB had won the salver!
The match was played in very good spirits, and the Irish were generous hosts. Quite a few club members came down to play on those lawns not in use for the match, which meant we had quite a few spectators throughout the weekend, a nice touch which certainly added to the atmosphere.
Looking forward to the rematch already!
Results
Andrew Johnston & Danny Johnston lost to David Maugham & Richard M Smith -22TP(S) -17TP(M)
Patsy Fitzgerald & Simon Williams beat Harry Fisher & Robin Brown +2 +25TP(W)
Patsy Fitzgerald lost to David Maugham -24TP -19TP
Andrew Johnston beat Harry Fisher +17TP -24 +26TP
Simon Williams beat Robin Brown -12TPO +26TP +11TPO
Danny Johnston lost to Richard M Smith +26TP -17TP -14
Andrew Johnston beat David Maugham +26TP +26TP
Danny Johnston lost to Robin Brown -26 +3TP -26TP
Patsy Fitzgerald lost to Harry Fisher -5 +5TP -26TP
Simon Williams lost to Richard M Smith +24TP -26TP -16
---