Tony Butcher won the CARA Cup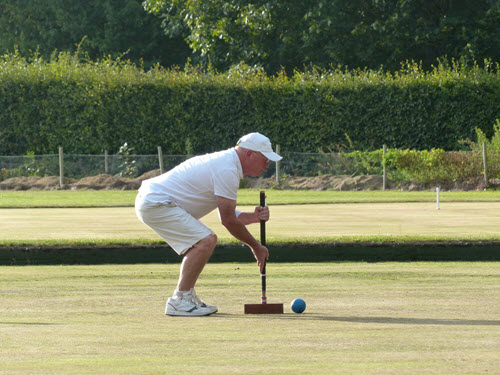 A photo of Tony Butcher's unusual but effective style (Photo: Mike Huxley)
by Mike Huxley at Guildford and Godalming
10th September 2019 (
GC
)
A full complement of 16 turned out for the CARA Cup (A/B Level GC) on Saturday 31st August., though the manager had to make up the numbers because of a late withdrawal. Weather was generally fine, except for a rogue shower of about 15 minutes in the afternoon. Competition was fierce and difficult, with very firm hoops and extremely fast lawns.
Qualifiers advancing to the knockout from the morning groups were: Tony Butcher, John Skuse, Neil Humphreys, Gavin Taylor, Andrea Huxley, Richard Carline, Louise Taylor and Martin Burger. Richard was attempting a hat trick of wins in the competition, and advanced to the final by beating Louise Taylor in the semi. Meanwhile, Tony was winning the other semi against Neil Humphreys.
So, Richard was into his third successive CARA Cup final. Richard made a very neat jump to level at 1-1 and hoops were shared until 4-4. Richard missed a crucial clearance at hoop 9, enabling Tony, with his unusual but effective crouching style, to go 5-4 up. Thereafter, Tony took charge and closed out the game 7-4. An excellent and absorbing final, Congratulations to Tony on winning 6 games out of 6 and earning a thoroughly-deserved win.
---