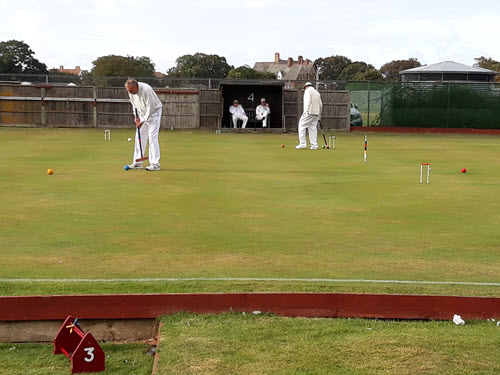 Colin Davies (8, Letchworth) playing against John Knight (16, Reigate Priory (left, in hut)) prim...
by Hilary Smith at Hunstanton
10th September 2019 (
AC - Handicap
)
By hook or by crook we had 8 players assembled at Hunstanton on Saturday morning, 7th September. Not the same 8 that we had expected earlier in the week! Unfortunately Jack Good, who had carried all before him at the Area Final at Bury, was injured at a Rugby training session on Wednesday evening, and could not play. There followed a flurry of emails and phone calls, which resulted in Charles Ostler from Spalding filling in to make up the numbers.
The lawns at Hunstanton were well prepared and the club members warm and welcoming. Mostly the sun shone, however with a brisk northerly wind the players needed to be well wrapped up.
We had a three hour time limit throughout, which was only possible by having only three quarters of a hour for lunch and a quick break at tea-time, and even so it was sunset when we finished on Saturday evening. By that time Colin Davies was unbeaten. There had been plenty good croquet and quite a few refereeing opportunities for our two assistant referees and the manager. Only 6 out of 20 matches were decided on time and only one was +26, so plenty chances to use the bisques and plenty interactivity.
In the round 5, Colin Davies was playing Mo Boys, giving 8 bisques. When he got in he took his first ball right round to the peg, leaving Mo with 3 or 4 bisques to go from 1-back and 3-back. The match then became much more interactive, as both players made a few hoops on each visit to the lawn, until eventually Mo was joined up near the west boundary and Colin near corner 2. He aimed for the peg - and hit (to a mutter of 'an 8 shouldn't be able to do that'). Colin had earned his silver merit award and a handicap reduction from 8 to 7. He takes the Trevor Williams Cup home and the New Zealand Tray to his club in Letchworth. Runner up was Neal Bacon of Edgbaston.
Many thanks to Patricia Duke-Cox for coming over to Hunstanton to present the prizes.
Final standing:
Colin Davies 4 wins
Neal Bacon, John Knight and Tim Lacy-Hulbert 3 wins
Barney Lewis 2 wins
Mo Boys 1 win
John Dawson 0 wins
Charles Ostler 4 wins
Handicap range for the final was from 2 to 16, although there were players with handicap 24 in the Area Finals. It is a really good competition for encouraging newer players into tournament play, starting with local competitions, before area finals and a national final. It would be great to find that some of those clubs who have slipped out of holding preliminary competitions in the past few years would take part again to boost the numbers, and hence the numbers at area finals and the national final.