Jonathan Powe and Stephen Custance-Baker won the English National GC Doubles Championship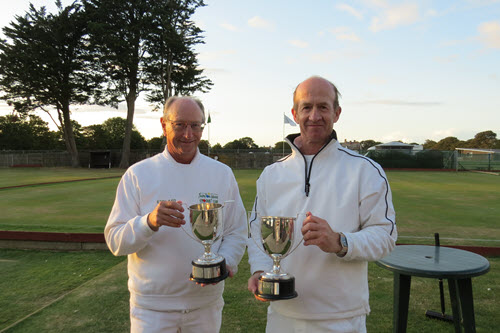 Ranelagh Sept 2019 (Photo: Jonathon Powe)
by Jonathan Powe at Hunstanton
13th September 2019 (
GC - Championships
)
The English National GC Doubles Championship was held over the weekend 31 August - 1 September at Hunstanton. Entries were down slightly this year, but 12 pairs enabled us to run two blocks of six (19-point games, all-play-all, top 2 pairs qualify for the knockout) on Saturday followed by best-of-3 semis and final, plus a plate, on Sunday. Hunstanton had prepared the courts extremely well with very tight hoops set solidly in hard ground, which meant the games took some time to complete as players struggled to run their hoops with any degree of consistency. As a result, the last game on Saturday finished just after 8pm as the light was beginning to fade and the last hoop of the final on Sunday was run at 7pm.
The qualifiers from Block A were not known until the very end of the final match on Saturday. If David Bell & Noel Gill had won their final game against Dick Strover & Chris Sheen, they would have qualified in first place (with an impressive 5/5). Had they lost 10-9, they would have qualified in second on net points. In the end they lost 10-8, which meant that Dick & Chris (4/5) went through to knockout in 2nd place with Jonathan Powe & Stephen Custance-Baker (4/5) in 1st.
In Block B, Lionel Tibble & Jayne Stevens took 1st place (4/5) with Stuart Smith & Steve Leonard (3/5) squeezing into 2nd place on net hoops, just above Nick Archer & David Thirtle-Watts (3/5).
On Sunday, the manager arranged a knock-out plate, which saw Tim King & John Bowcott prevailing at the 19th hoop in the single 19-point game final (10/9) against Nick & David.
In the knockout semis, Jonathan & Stephen beat Stuart & Steve 2-1 (7-5, 5-7, 7-2), and Lionel & Jayne beat Dick & Chris 2-1 (7-5, 3-7, 7-5). The final was a long and closely fought match, which could have gone either way. In the end, Jonathan & Stephen took the match 2-1 (7-6, 4-7, 7-4).
Patricia Duke-Cox presented the Ranelagh Cups to the winners and thanked the hosts for their preparatory work beforehand and their hospitality throughout the weekend. Special thanks must go to David T-W for setting the hoops so well and to Richard Bilton, who selflessly managed the event with impressive efficiency.
All the results are available on Croquet Scores here: https://croquetscores.com/2019/gc/english-national-doubles-championship
---