Inter Federation Challenge. Yorkshire Croquet vs. Croquet North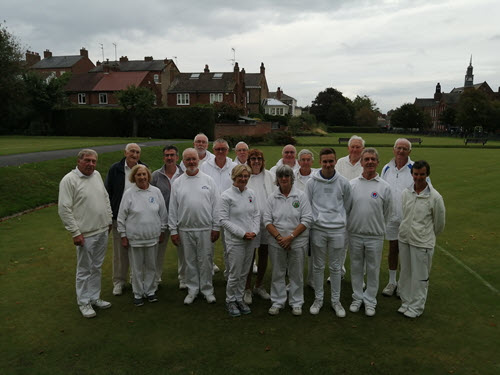 Inter Federation Challenge. Yorkshire Croquet vs Croquet North (Photo: Dennis Scarr)
by Dennis Scarr at York
5 Oct 2019 (
AC
)
The 4th Inter Federation Challenge between Yorkshire Croquet and Croquet North was held at York Croquet Club on Sat 5th October.
The Challenge brings together 8 players representing each Federation in a one day croquet event comprising AC Handicap Doubles, GC level Play Doubles and AC 1 Ball. The aim of the Challenge is to encourage players who might focus most of their croquet playing time on one particular code to step into the world of the "other code".
We gathered at 9.30am for refreshments, a briefing from Manager Ted Flexman of Yorkshire Croquet, to learn details of the morning pairings and the number of bisques given or received.
AC Handicap Doubles got the day started. 18 point games with all clips starting on hoop 5 with a 2 hour time limit.
Your correspondent got the first break and threw down the gauntlet by running a long angled hoop one only to be reminded, to the backdrop of hoots of derision from fellow players that " all clips start on hoop 5 ". The morning saw that game as one of two lost by each Federation leaving the scores all square at 2 all at lunch.
Lunch provided by Yorkshire Croquet maintained the high standard of hospitality associated with Challenge matches as we finalised order of play for the AC 1 Ball. It is entirely up to each Manager to set the order of play for 1 Ball so until both orders of play are shared it is not known whether handicaps are matched or mixed. Today, the majority of handicaps were mixed bringing different challenges to both lower and higher handicap players.
1 hour time limits were applied to 13 point games. No games went to time and when all matches were completed the score was 4 wins each.
GC Level Play Doubles - best of 3 - 45 mins time limit per game would decide the outcome.
After 2 matches were complete, both resulted in 2-0 wins to Croquet North. Perhaps the tide was turning in their favour. The 2 remaining matches were both one game all and entering the third and final game. Croquet North needed one more win to take the overall match; Yorkshire Croquet needing to win both deciding matches to draw.
The first deciding game to finish went to Yorkshire Croquet with all players then gravitating to the lawn hosting the final match. Yorkshire were up 6-5 however Croquet North seemed to be in control of the hoop. Eventually Yorkshire Croquet missed a clearance - hoop to Croquet North - 6-6 and on to hoop 13. Clearance followed clearance until Croquet North jawsed. Yorkshire Croquet failed a long clearance from behind the hoop. Croquet North then failed a clearance on the remaining Yorkshire Croquet ball, leaving Yorkshire Manager Ted Flexman with a three yard angled jump attempt on the hoop to save both the game and the match. He made it !
At the end of the day the two sides could not be separated. A draw was in many ways a fitting result even though some on the Yorkshire side were quick to adopt the Ashes Cricket maxim whereby, in the event of a tie the "trophy" is retained by last years winners, who just happened to be Yorkshire Croquet !
Although it's a team event, individual performances were worthy of note. Mike Akester from Croquet North was the only player to win all his matches in the three formats. Conversely and im sure he wont mind me mentioning this !! Callum Johnson was the only player not to win a game in any of the three formats. Im sure, however, Callum will not allow that to detract from his outstanding season in both AC and GC.
Looking forward to the 2020 event at Middlesbrough already !
---