Rachel Gee won the English National Singles Championship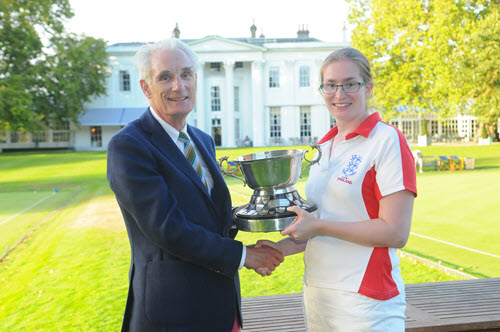 Rachel Gee, receiving the EBSC(Ascot Cup) from CA Chairman John Bowcott (Photo: Richard Bilton)
by Richard Bilton at Hurlingham
21st October 2019 (
GC - Championships
)
The Hurlingham Club is one of the best venues to host a major tournament, and the lawns were in excellent condition, complemented by sunny weather over the weekend. Among the 16 players, were three previous winners as the top three seeds (all members at Nottingham) whose grades were separated by only 16 points, as well as many regulars at top level GC events. It was anyone's guess whose year it would be.
The 16 competitors played best-of-three 13-point games in four blocks of four on Saturday to determine the top two from each who would progress to the knockout. Blocks A, C and D finished with players on 3, 2, 1 and 0 wins, block D going to seeding and all matches 2-0 except for Chris Roberts taking the middle game against Lionel Tibble. In block C, Rachel Gee, who had qualified for the event by reaching the semi-final at Nottingham on who-beat-who for second position in her block, was the only player to not drop a game on the first day in what looked like the strongest block, and seemed in by far the best form of the field. Block B ended with two players on 2 wins and two on one, Ian Burridge losing to Tim Jolliff in game three, neither player knowing they were first and second in the block regardless. Block A saw Euan Burridge win all three matches, although dropping middle games to Will Gee and Tim King 2-7.
The knockout consists of three rounds of best-of-three matches. The draw was made at 09.15 on Sunday morning with 6/8 of the players present. No-one dared to tell Will and Rachel Gee when they arrived that they were to play first thing, courtesy of Will coming second in his block.
Lionel Tibble came through the first round against Tim Jolliff, comfortably winning 7-3, 7-4. Callum Johnson's more measured and controlled approach saw him also come through in two games, taking out Euan Burridge 7-4, 7-6. In the other half, Ian lost the middle game to Stuart M Smith at hoop 13 but still won 7-3, 6-7, 7-4 to set up a match with fellow club member Will or Rachel Gee, who had previously played 10 ranked games (Will leading 7-3, including a previous Ascot Cup final at Hurlingham 2-1). Rachel didn't start as well as she played on the previous day, taking the first game at hoop 13. Will then found a gear and took the second, and after a tense close third game, Rachel prevailed 7-6, 4-7, 7-6.
In the battle of youth vs experience, Callum Johnson made a great start to the semi-final against Lionel Tibble who then returned the favour in game two. Nothing separated them in the much closer game three which could have been anybody's. Callum took a 6-5 lead and earned himself a shot at hoop 12 for the match but was rejected. Lionel then retook control and levelled at 6-6, and Callum's first approach to 13 being short assisted Lionel in taking the match 2-7, 7-3, 7-6 to reach the final.
The other semi-final was never going to be a quick match between two players who know each other's game inside out, already having played 18 ranked games (Ian leading 10-8) and countless hours at the club. Rachel refound her form and took a convincing first game before Ian did the same to level at 1-1. Both players continued in game three, Rachel was very impressive in taking a 6-4 lead. Ian wasn't going away and took the middle hoops to level at 6-6, but Rachel just had the edge and took her first chance to win 7-2, 4-7, 7-6 and the other place in the final, having knocked out two former champions en route.
A new name would once again be added to the Ascot Cup for the fifth year running after the final between Lionel Tibble and Rachel Gee, who had played a remarkable 28 games beforehand with Lionel leading 17-11. Rachel, who had been the most consistent and played the best croquet throughout, showed no sign of slowing down, and solid clearing and hoop running earned her the first game. However, Rachel then had a slight dip in performance and Lionel found prime form in game 2, constantly demonstrating his speciality - the irritatingly effective controlled centre-ball clearance from any range which nudges the opponent ball a dozen yards while Lionel's ball hangs around in the vicinity of the current hoop. However, there was insufficient gold left in the pot for game three and Rachel regained enough form to take control and the match by 7-4, 2-7, 7-2. Rachel's much overdue first UK triple crown victory is very well-deserved. John Bowcott was on hand to present her with the Ascot Cup.
The Plate was played as a 19-point knock-out with a best-of-three final. Louise Smith stepped in after one of the players became ill overnight, but couldn't overcome Chris Roberts who took their game 10-4. Richard Bilton slipped straight into gear, quickly overcoming Tim King 10-1 followed by Chris 10-4 with impressive long-range clearing and hoop running. Two closer matches in the other half saw Stephen Leonard and Stephen Custance-Baker beat Paul Durkin and Peter Dowd, respectively, by 10-6, Stephen C-B taking their match 10-7. In the final, Stephen's consistent near centre-ball clearing allowed him to take the first game, but Richard decided to return to form and lead the second 6-2. Stephen hung in and was level at 4-4 in game three before all three games finished at hoop 11, Richard winning 4-7, 7-4, 7-4. Stuart M Smith beat Euan Burridge in straight games, 7-4, 7-5, for 5th place.
Warm thanks to Hurlingham Club for hosting the event on their 150th anniversary weekend and preparing the courts so well, including setting four sets of Quadway hoops for the blocks and main knockout.
All results are available on Croquet Scores.
---