St Albans beat Chester to win the Secretary's Shield 5-2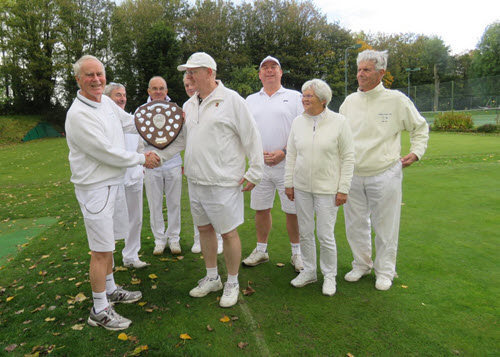 John Dawson presents the Secretary's Shield to Chris Frost (Photo: Chris Frost)
by Chris Frost at Kenilworth
19 Oct 2019 (
AC - Secretary's Shield
)
St Albans beat Chester 5-2 in the final of the Secretary's Shield on Saturday 19th October: match played at Kenilworth.
The Secretary's Shield Final was held at Kenilworth between St Albans and Chester on 19th October, the final having to be rearranged when the previous fixture had been rained off. The teams had met two weeks previously in the 3rd/4th play-off in the Longman Cup.
In the morning session Chester's Brian Walton achieved his Silver Merit award by taking his second ball through all 12 hoops and winning his game but St Albans won the doubles and the second singles match to take a 2-1 lead at lunch. In the afternoon session all the games were close (including one going to a golden hoop) with St Albans winning 3 of the matches to win the final by a score of 5-2.
John Dawson from the CA committee presented the trophy to Chris Frost the St Albans Captain.
St Albans names first.
Chris Frost (3.5) & Stuart Stafford (16) beat John Dawson (3) & Robin Tasker (5) 26-11
Heather Bennett (3.5) beat David Boyd 26-22
Stephen Mills (11) lost to Brian Walton (8) 26-9
Chris Frost (3.5) beat John Dawson (3) 26-21
Heather Bennett (3.5) lost to Robin Tasker (5) 20-19
Stephen Mills (11) beat David Boyd 26-24
Stuart Stafford (16) beat Brian Walton (8) 26-17
---