Omied Hallam won the Wrest Park September Handicap Tournament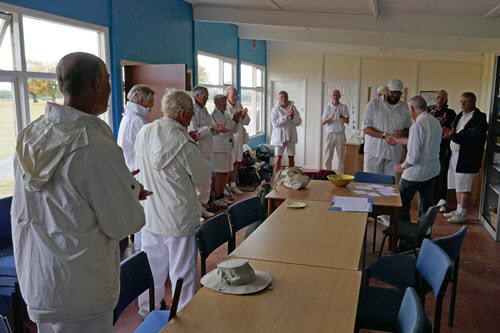 Omied Hallam receiving his prize from Geoff Strutt.
by John Bevington at Wrest Park
22nd October 2019 (
AC - Handicap
)
Omied Hallam, having already won our Advanced tournament in August and then gone on to win the Spencer Ell, returned to Wrest Park and won the Handicap tournament, winning all his six games. The nearest he came to defeat was in his first game against George Woolhouse, whose hitting in kept the game in the balance until near the end. Jonathan Toye was the best of the rest with four wins. Saturday was sunny and warm and the lawns were quite fast, with hoop 4 on lawn 1 proving very difficult: any number of hoop approaches finishing with the ball describing a graceful arc well away from its intended position. The rain came as forecast on Sunday, but not enough to hold up play. Manager Geoff Strutt imposed three hour time limits with 10 Wharrad turns to follow, a novel experience for some. Our thanks to Wendy Audsley and David Woolley for providing lunch and tea, and to George Collin and Eric Audsley for staying on after play to apply the autumn fertiliser.
Omied Hallam (-1½) 6/6
Jonathan Toye (6) 4/5
Bryan Harral (-½) 3/4
Richard Keighley (11) 3/4
Hugh Manson (6) 3/5
Eric Audsley (2) 2/4
John Bee (7) 2/4
John Bevington (1) 2/4
Sarah Barley (11) 2/5
George Collin (1) 2/5
George Woolhouse (3) 2/5
Cliff Jones (½) 1/3
Barry Pilgrim (8) 1/5
Andre Machell (6) 0/3
John Hall (10) 0/4
---