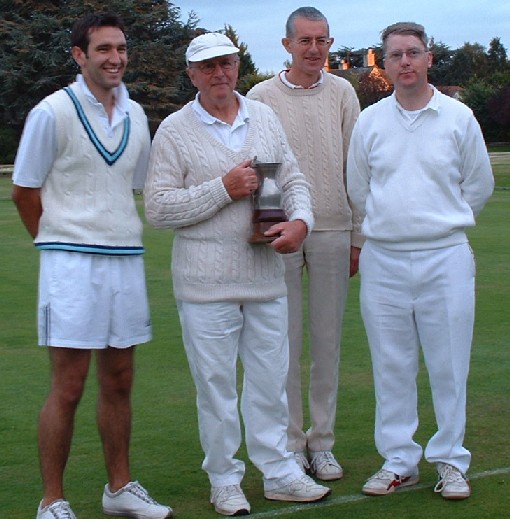 Ben Ashwell, John Wheeler, John Bevington, George Collin
by John Bevington at Cheltenham
16th October 2002 (
AC - Mary Rose
)
The Bedfordshire boys had been consistent throughout the year, with the same team of veteran John Wheeler, George Collin, John Bevington and the much improved Ben Ashwell. After a bye, Bowdon and Nottingham, the final at Cheltenham, against Medway, was eagerly awaited. The Medway banner, visible on arrival, made it clear how important club competitions are. In the 20 years of the competition it had taken until 1995 for Wrest Park's first win, and they now had the chance of a third.
Following a sunny if somewhat slow start in the morning dew, the first problem was whether Eileen Magee could cater for the band of supporters, all eager for some of Dab's bread and butter pudding. Panic over, a doubles win for John Wheeler and Ben against David Parkins and Paul Miles, and the first bottle of wine was opened. The sky darkened as clouds came and the morning singles were eventually lost after nearly 5 hours to leave the team 2-1 down.
The doubles boys had already started the afternoon singles and the tension mounted as peels failed, with several attempts at rover required before a 3-2 lead was posted. One more match needed. George succumbed to some steady work by Rodney leaving John Bevington (born west of the Medway, a few miles from the club) to clinch the final game for Wrest Park after many twists and turns.
Thanks to David Magee and Cheltenham for looking after us all.
Results
Wrest Park names first
John Wheeler (1½) & Ben Ashwell (1½) beat David Parkins (1) & Paul Miles (2) +10
George Collin (2) lost to David Tester (3½) -3
John Bevington (2½) lost to Rodney Parkins (4½) -7
John Wheeler (1½) beat David Parkins (1) +6
Ben Ashwell (1½) beat Paul Miles (2) +2
George Collin (2) lost to Rodney Parkins (4½) -7
John Bevington (2½) beat David Tester (1) +8