Clubs may re-open for play if precautions are taken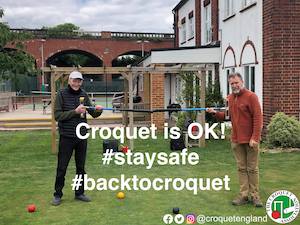 Croquet: social-distancing friendly! (Photo: Dulwich Croquet Club)
by Ian Vincent
15th May 2020 (
CA Official News
)
The Government published amendments to the lockdown rules on 11th May permitting in England a limited extension to outdoor activities from Wednesday 13th May. They published further guidelines, specific to outdoor sports, dated 13th May.
Having reviewed this, the Croquet Association believes that advice permits clubs to open from that date, provided that they follow Covid secure guidelines.
The CA have provided croquet-specific advice as a download for clubs and players (last updated 14th May), to minimise the risk of infection by Covid-19, so that clubs can safely reopen for play. (The advice is also available in MS-Word format for clubs to adapt for their own use.) The advice was reviewed by the Dept. for Digital, Media, Culture and Sport.on 15th May.
This has been summarised as a COVID infographic poster for clubs to print and display.
The CA has also contacted its insurers and has established that clubs will be covered as normal under the CA Club Insurance policy provided they adhere to government guidance. However communicable diseases are excluded and so there isn't any cover for Covid-19 under the policy.
CA Coronavirus Task Force
---