25 hours of croquet - solstice fundraiser at Dulwich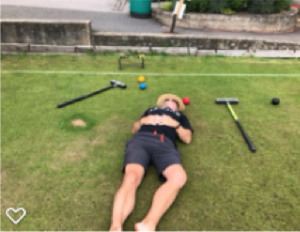 Guy in training for his 25 hour croquet marathon!
by Guy Scurfield at Dulwich Croquet Club
23rd June 2020 (
GC
)
On Weds 10th June my croquet buddy Pete and I were shooting the breeze on social media, when an idea popped into my head...
Guy: "Remember when we were in Ripon last year and Fergus told us about the 24-hour croquet game he did over the summer solstice one year? Why don't we do it this year?"
Pete: "But that's just a week or so away? Who would do it?"
Guy: "Well me, obviously, and you, clearly!"
Pete: "Ah . . ."
So, on Saturday 13th we launched our fundraising page - to raise £2,000 to split between Dulwich Sports Club (home to Dulwich Croquet Club) and St Christopher's Hospice.
We wanted this to be a whole-club effort, so asked for volunteers from hockey, squash, tennis and cricket to partner Pete and me to play each other throughout - and at some point someone said: why not do 25 hours, not 24, then you can have 50 different partners ... great idea! So, we set up to play from noon 'till 1pm the following day over the Summer Solstice.
Members volunteered from all sections of the club, from age 9 to 89, with people filling the less social hours in the middle of the night very quickly. With generous help, the lawns were lit with strings of LED bulbs and spotlights, and yet others offered to keep us going with cake and bacon rolls from dusk to dawn.
Our opening partners were Cindy Rutherford, a croquet player and frequent fundraiser for the hospice, and Nikhil Roy, our squash-playing Club President.
Early on saw our youngest participant, budding cricketer Freddie (9), take to the game and he was soon followed by Patricia Goodman; our oldest (89) reminding us that croquet, which doesn't care about age or gender, is a sport where your playing days are never behind you.
Incredibly, hour after hour, new partners arrived, all keen to play, right through the night, with not a single 'no show', which was a great boost for Pete and myself who, at about 3.40am, were starting to seriously ache all over as the night-time temperature dropped and the dampness in the air rose.
Without the cheerfulness of new recruits, this would have been the point at which we would have been convinced that some hours were longer than other and even the year's shortest night was a bit too long. Druids being scarce in South London, the solstice sunrise was greeted with generously donated champagne, and the 6am round of bacon rolls were washed down with a pick-me-up Bloody Mary.
There was an accompanying sweepstake ("How many combined steps will Pete & Guy do in 25 hours?") to encourage more participation - the numbers were in some cases scarily high - depressing us no end!! Won in the end by our youngest participant.
After which, time was flying, even if we were not, and before the last of many espressos wore off, the final game was upon us, which we played with our respective wives. This emotional game, which - by chance - finished at 1.01pm, twenty-five hours and one minute after we struck our first ball, was made very special by being watched by a lovely (socially distanced) crowd of friends and club members.
A total of £4,200 was raised for St Christopher's Hospice, a charity that is close to the hearts of very many people in South London and for Dulwich Sports Club, which, in these lockdown days, it's members have learned to appreciate anew.
Would we ever do it again we were asked, "yes, like a shot!" the answer.
Thanks to all those who supported us in many ways throughout the event, start to finish 10 days…
You can see pictures of nearly everyone on our Dulwich FB page.
Guy Scurfield - Dulwich Croquet Club President
---