Mark Avery won the Wrest Park AC advanced weekend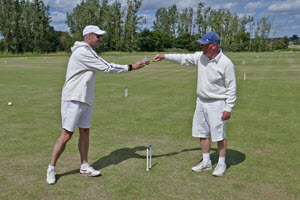 Mark Avery wins Wrest Park AC advanced
by John Bevington at Wrest Park
4-5 July 2020 (
AC
)
Half empty, or half full?
The tournament was won by Mark Avery, who conceded a mere 12 points while reeling off five consecutive TPs. Mark's late entry on 1 July brought the numbers up to eight, which helped George Collin's job as manager. However George then had to review the latest versions of the CA general guidance and tournament guidance documents, published the following day, before he was able to prepare the order of play and instructions for players. Everything was worked out in advance, but it didn't go quite as planned.
The first session involved two groups of four, all play all, but the first group got through their games so fast that one round in the second group had to be cancelled to keep things moving. Next time it might be worth imposing time limits to avoid this possibility. The next session of two rounds was completed, and sessions 3 and 4 (one round) were swapped. After session 4 was completed George played Nigel in a game planned for session 3, and in doing so became the only player to complete seven games. He may have failed to win any of them but he deserves our thanks for his ability to organise the tournament successfully in accordance with the current rules and guidelines. Should anyone want copies of the format used we can provide them.
Reports are usually considered incomplete without references to catering and prevailing weather. The former was not required; as to the latter we had winds strong enough to move the balls but only a few light showers on Saturday, so there was no need to implement the contingency plan of having outplayers sheltering in their own cars for cover (bearing in mind the objective of not sharing indoor spaces). Such weatherproofing would have been problematic for Phil Cordingley, who had made the journey from Flitwick station by bicycle. Other considerations were the need to keep assembled group numbers to fewer than six and maintaining the two metre rule. We also made individual labels for those needing club chairs, and the trophy was presented at a safe distance with the aid of the club's salad servers.
This appears to be the first advanced tournament of the season and we can only hope there are more to come. We could have accommodated another eight entries, but we are grateful that the event could happen at all. As for next year I can only repeat Andrew Gregory's concluding comment on last year's Newport Open tournament: "We would particularly welcome players in two categories: players in the handicap range 0-3; players who can beat Avery."
Mark Avery (-2½) 5/5 5 TPs
David Marsh (-1) 4/6 1TP
Phil Cordingley (-1) 4/6
Rod Ashwell (-½) 3/4
Nigel Polhill (-1) 3/6
Lionel Tibble (-1½) 2/5
Gary Bennett (-½) 1/5
George Collin (1½) 0/7
---