Andrew Beaumont won the Phyllis Court & High Wycombe 8+ Advanced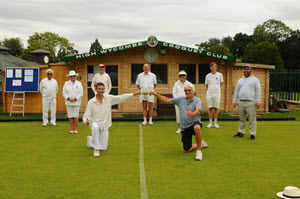 by Chris Roberts at Phyllis Court & High Wycombe
29th July 2020 (
AC
)
'Have caravan, will travel' - and win!
Nottingham CC's Andrew Beaumont was rewarded for his adventure in overcoming travel and accommodation difficulties when he won this 8+ Advanced tournament undefeated.
The other players in the field of eight were all from much nearer localities, and all were keen to take up the rare opportunity to play Advanced AC against their peers.
This tournament is unusual in its offering to this level of player who are so often 'obliged' to play handicap because it's all that is available, and is unusual in another way too, because the venue changes between the first and second days.
The format of 2.5 games per day (with the third round game pegged-down by design), suits this level, and the venue change means that the members of both host clubs only 'lose' one day each to the tournament.
Day 1 was at Phyllis Court, Henley on Thames, Oxfordshire and Day 2 was hosted by High Wycombe CC, just half an hour away.
Andrew Beaumont shared the lead undefeated with Peter Allan (Harwell) overnight, with the latter seemingly on the brink of victory in their pegged-down match, but Beaumont came through for the unexpected win that proved to be the pivotal result of the tournament.
Beaumont didn't look back after that and, as all bar Allan took games off each other, the tournament victory was secured for the Nottingham man with the fifth and final round to spare.
Allan rued that one lost game and had to settle for deserved second place on four wins, one ahead of Frances Colman (Phyllis Court and High Wycombe).
Colman actually scored the most exciting win: a narrow two-hoop margin over Carole McLoughlin (Ealing & Roehampton), which saw Colman's confident seven foot hoop run on the stroke of time, countered by a fabulous 25-yard roquet from McLoughlin in the time turn, which alas yielded just one hoop and wasn't enough, to Colman's relief.
High Wycombe chairman Richard Peperell presented the PC/HW Cup to Beaumont at as much arm's length as they could jointly mange and the group photo was also a challenge as everyone observed the two metres social-distance guidance.
---